Persona 5 Anime Trailer, April Premiere, Staff Revealed
The Persona 5 anime series is coming.
Today, we got an in-depth look at the series, based on the popular game, thanks to a trailer, information on the cast and crew, and premiere date (well, month, anyway).
Persona 5 the Animation will premiere in April 2018, and is directed by Masashi Ishihama (From the New World). Scripts will be supervised by Shinichi Inotsume (Persona 5 the Animation -The Day Breakers-), and the game's character designs will be adapted for anime by Satomi Ishikawa (Convenience Store Boy Friends). Music will be composed by Shoji Meguro, who served as the composer on the game.
Here's a bit of especially good news for fans of the game: the full vocal cast, including Jun Fukuyama (Rei Amamiya) will reprise their roles for the series.
The series will be animated at A-1 Pictures, who also produced Persona 5 the Animation -The Day Breakers-.
For those who haven't played the game, a summary courtesy Amazon:
Persona 5 is a game about the internal and external conflicts of a group of troubled high school students – the protagonist and a collection of compatriots he meets in the game's story – who live dual lives as Phantom Thieves. They have the typically ordinary day-to-day of a Tokyo high schooler – attending class, after school activities and part-time jobs. But they also undertake fantastical adventures by using otherworldly powers to enter the hearts of people. Their power comes from the Persona, the Jungian concept of the "self". The game's heroes realize that society forces people to wear masks to protect their inner vulnerabilities, and by literally ripping off their protective masks and confronting their inner selves do the heroes awaken their inner power, and use it to strive to help those in need. Ultimately, the group of Phantom Thieves seeks to change their day-to-day world to match their perception and see through the masks modern-day society wears.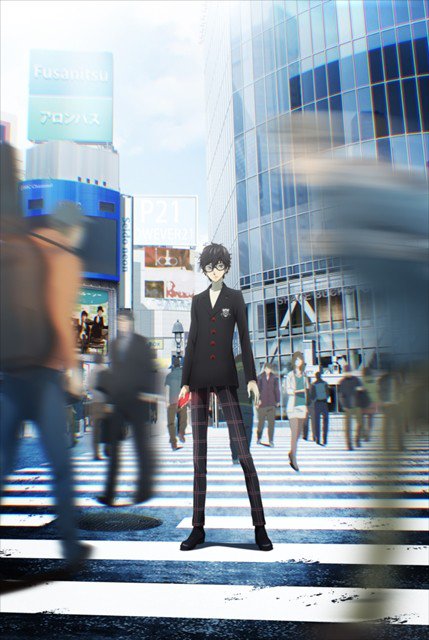 Source: ANN