Nisekoi Author Illustrates One Piece Spin-Off Manga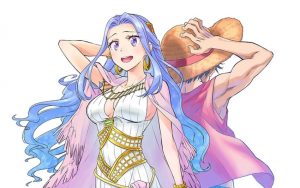 A new One Piece spin-off manga is on the way in the form of a one-shot, and it will feature the work of none other than Nisekoi author Naoshi Komi. Titled Vivi no Bouken (The Adventure of Vivi) the one-shot will be featured in this year's 39th issue of Shueisha's Weekly Shonen Jump magazine, which hits stands in Japan on August 30.
Vivi no Bouken tells a tale from the Alabasta arc and will include an iconic scene. The one-shot will be 48 pages long with a color page. This all comes as part of the ONE PIECE COVER COMIC PROJECT, which has a variety of artists whipping up their own versions of One Piece stories.
After this one, the fourth chapter of Shokugeki no Sanji—the spin-off by the creators of the Food Wars! Shokugeki no Soma manga—will appear in the 40th issue of Shonen Jump, followed by a special chapter of One Piece Gakuen (One Piece School) by Sohei Koji in issue 41.
Here's the full Vivi no Bouken teaser illustration by Nisekoi author Naoshi Komi.
Via @OPcom_info