Nintendo Switch Console Officially Revealed
Nintendo promised they would offer a glimpse of the codenamed Nintendo NX console, and that's exactly what they did this morning. That resulted in the first official look at the Nintendo Switch, which is a hybrid home console/portable that aims to provide a bunch of different ways to play alone, on the go, and with others both locally and online.
In an effort to assuage concerns about third party support, which is always kind of tough for Nintendo, the company also provided a full list of developers and publishers that have pledged support so far. You can check out the details after the introduction trailer below.
A closer look at the system itself: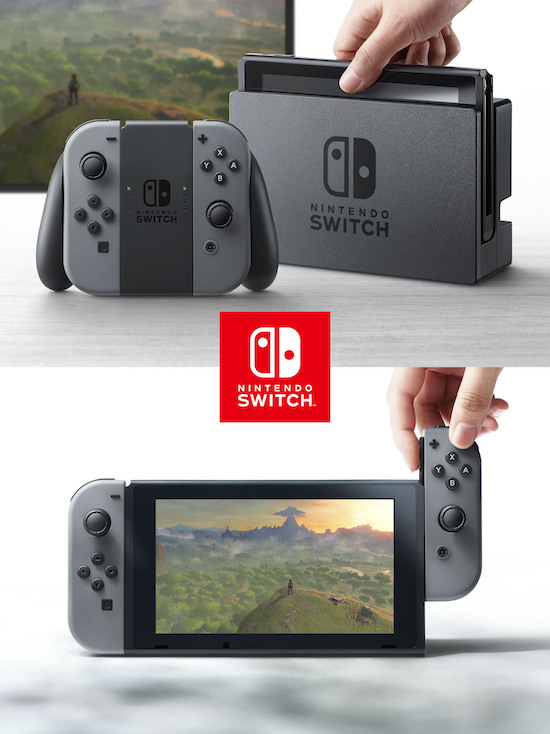 Third party support: 
And details from the press release:
At home, Nintendo Switch rests in the Nintendo Switch Dock that connects the system to the TV and lets you play with family and friends in the comfort of your living room. By simply lifting Nintendo Switch from the dock, the system will instantly transition to portable mode, and the same great gaming experience that was being enjoyed at home now travels with you. The portability of Nintendo Switch is enhanced by its bright high-definition display. It brings the full home gaming system experience with you to the park, on an airplane, in a car, or to a friend's apartment.
Gaming springs into action by removing detachable Joy-Con controllers from either side of Nintendo Switch. One player can use a Joy-Con controller in each hand; two players can each take one; or multiple Joy-Con can be employed by numerous people for a variety of gameplay options. They can easily click back into place or be slipped into a Joy-Con Grip accessory, mirroring a more traditional controller. Or, if preferred, the gamer can select an optional Nintendo Switch Pro Controller to use instead of the Joy-Con controllers. Furthermore, it is possible for numerous people to bring their Nintendo Switch systems together to enjoy local multiplayer face-to-face competition.