Ninja Slayer From Animation Exhibition Photo Report
Pixiv Zingaro, the Tokyo gallery co-run by art-sharing site Pixiv and pop artist Takashi Murakami, has been the sight of many anime and manga-based exhibitions since it opened up in otaku paradise Nakano Broadway a few years back.
The latest, which runs from May 12 to 24, is dedicated to studio Trigger's 2015 original net animation Ninja Slayer From Animation. For those who can't make it, we've got a full photo report below. Let's get slaying!
Ninja Slayer From Animation, the extremely meta ONA supposedly based on a novel from American writers Bradley Bond and Philip "Ninj@" Morzez, ran on Japanese video service niconico last year, and a special TV edition is currently airing on Tokyo MX. The series was directed by Trigger's Akira Amemiya (Inferno Cop) and the exhibition featured original character designs and storyboards by Amemiya and others, not to mention character art, figurines, and even a full-size costume from the series. Check it out!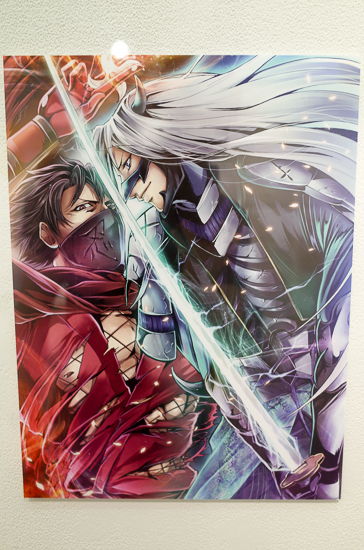 The Ninja Slayer From Animation exhibition runs until May 24 at Pixiv Zingaro in Nakano. For more in-depth Ninja Slayer coverage, check out our own Daryl Surat's review here.