Looking for a Nami Figure? Get Our Top 10 Recommendations
Both the One Piece manga and anime have been running for over 20 years now, with only vague promises of an end in sight. Nami's been in the Straw Hat Pirates since the beginning, and with so many arcs worth of different outfits, there are countless opportunities for different collectible figure models. Manufacturers continue to take full advantage of those opportunities, so we put together a list of our top recommendations to help you sort through all the choices available.
Price: $117.18
Size: 5.4″
Manufacturer: Megahouse
The articulation on this figure is truly impressive, allowing you to set Nami in almost any pose you can imagine. For some people, this will be a big selling point. On the other hand, the ball joints and some of the fine details in the sculpt don't quite look so nice next to other entries on the market, and the price is pretty steep.
Price: $76.08
Size: 8.26″
Manufacturer: Megahouse
We figured it was a good idea to include at least one short hair Nami for variety, but a lot of the short hair Nami figures came out kinda plain and boring. Maybe it's just not her best hairstyle. Luckily, we eventually found this repaint from Megahouse, which is cute and rides eternal: shiny and chrome.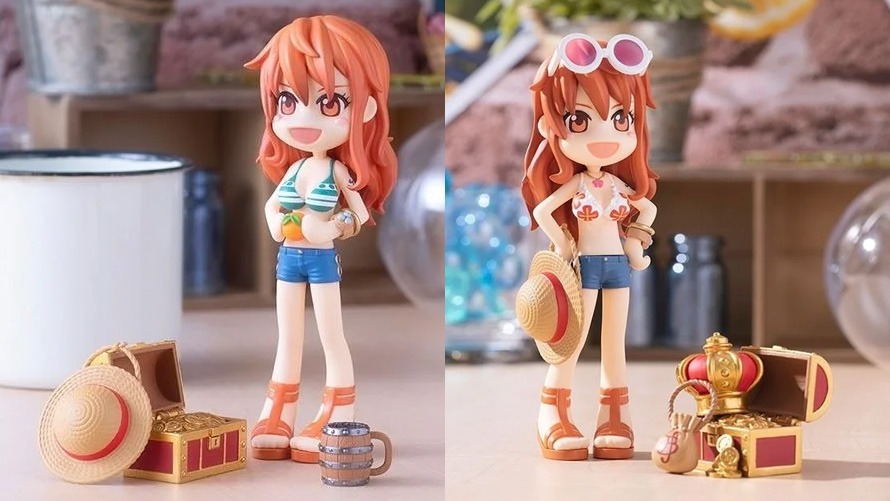 Price: $32.73
Size: 3.9″
Manufacturer: Megahouse
For those interested in an cute, unassuming Nami figure, Megahouse has you covered. The range of accessories included is pretty impressive, allowing you to swap bikini tops, swap from short to long jeans, and add sunglasses, a holstered belt, bracelet, beer mug, and more.
Price: $48.99
Size: 7.5″
Manufacturer: Banpresto
There's a few different "wild west" Nami figures around, but this one is armed with an iconic six shooter and the most "interesting" pose. Matching cowboy renditions of Luffy and Zoro are also available if you're like to complete the set.
Price: $26.99
Size: 9.75″
Manufacturer: Banpresto
This is a spot-on rendition of Wanokuni arc Nami, and it's available in both the normal colors and a darker alternate color scheme that's pretty nice as well.
Price: $29.98
Size: 9.84″
Manufacturer: Banpresto
If Megahouse's bikini figures are too rich for your blood, Banpresto makes a few that are much more affordable. We're crowning this one best, because it literally has a crown. The quality sculpt and sexy hair-tossing pose also help quite a bit. If you're not convinced, you can see if this one or this one tickle your fancy.
Price: $45.00
Size: 5.9″
Manufacturer: Tamashii Nations
There are a few different figues of Nami's classic "after time skip" outfit, but this one stands out as the most faithful to Eiichiro Oda's linework and coloring. If you just want to go back to the basics, this is the one for you.
Price: $29.95
Size: 9.84″
Manufacturer: Banpresto
This one is based on Nami's overalls from One Piece Stampede, but the realistic coloring of the denim, handkerchief, and boots lend a tough rockabilly feel to the outfit that's almost reminiscient of her mother, Bell-mère. Buy both figures and get badass mother/daughter vibes going on your shelf.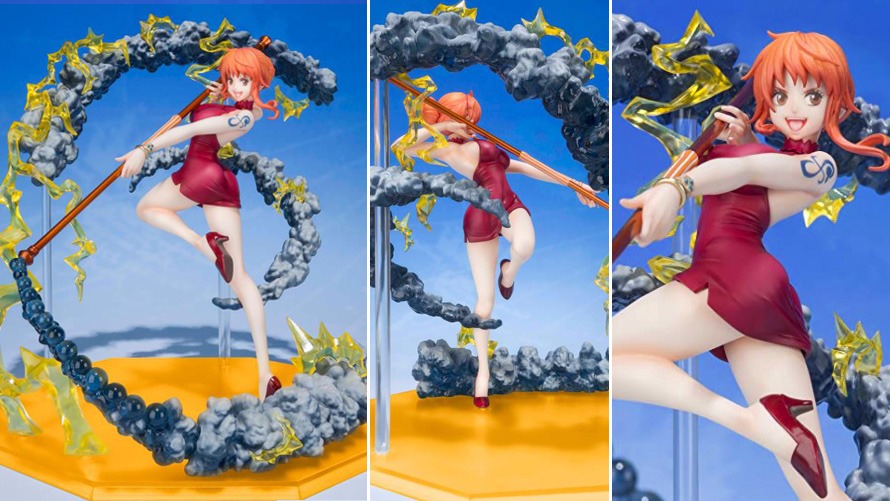 Price: $138.55
Size: 6.1″
Manufacturer: Banpresto
This outfit from the Whole Cake Island saga is one of Nami's more unique looks, and the combination of posing and modeled storm effects really take this from a static figure to a dynamic composition that's fun to look at from all angles.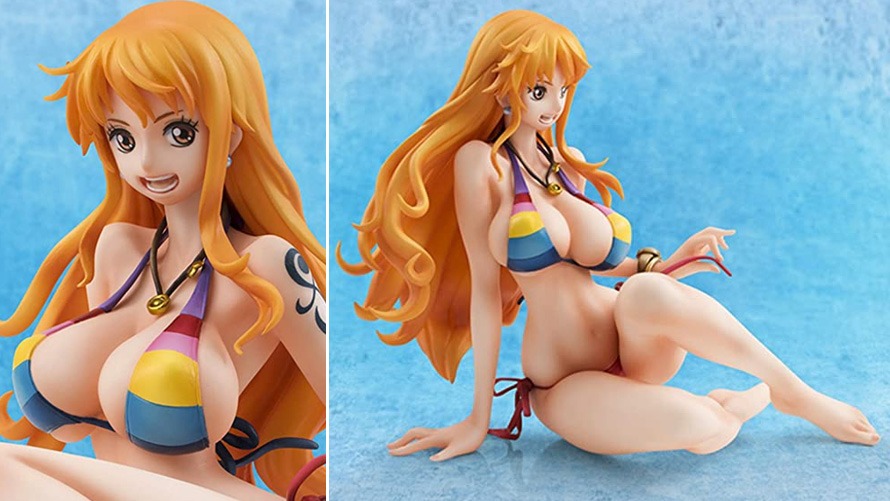 Price: $162.58
Size: 5.25″
Manufacturer: Megahouse
It's hard to miss to the fact that fan service is a dominant driving factor in the collectible market, and Megahouse are the kings of salacious swimsuit figures. The colors on this one really pop, but there's another pose holding a beer, another drinking water, and a few color variants of Nami removing her top, including a new one on preorder with Rightstuf. Pick your poison, but don't hold us responsible if you go blind!
---
Otaku USA may earn a small commission on purchases made through links on this article. As an Amazon Associate we earn from qualifying purchases.