"My Sailor Uniform" Targets Men Who Want to Crossdress at Home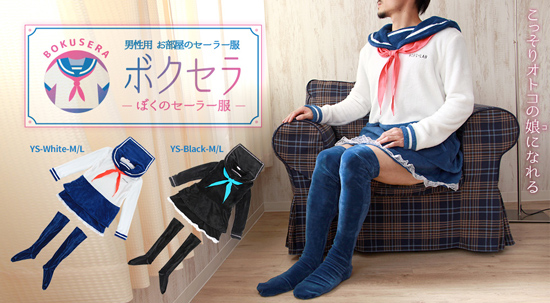 "Men who want to dress as girls, but don't want to be seen around town, why not try 'My Sailor Uniform'?"
That's the pitch from Japanese retailer Bibi Lab, who have this week debuted My Sailor Uniform, or Bokusera, a new clothing line aimed at men who want to try crossdressing in the comfort of their own home without embarrassment.
The Bokusera line, which resembles the Japanese school uniforms we've become familiar with through Sailor Moon and countless other high school-set anime, comes in both white and black and a variety of sizes.
Bokusera's self-proclaimed mission is to take crossplay from a era of "having fun from being looked at" to "a feeling of satisfaction from just putting on clothes" and say the clothing line provides stress relief.
They also make women's sizes, targeting women who never had the chance to wear a uniform when they were in school.
Bokusera is available at several online retailers and goes for a list price of ¥8,856 (about $75). It's currently ranked number one on Amazon Japan in the category of "wearable blankets."
Source: Tokyo Scum