Monster, Billy Bat Creator Naoki Urasawa to Pen New Series in 2017
Naoki Urasawa fans, get hype.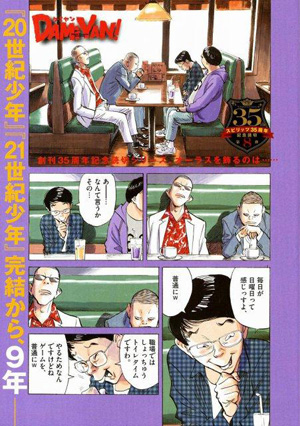 The legendary artist, who has penned some of the most memorable and best-selling manga of the last quarter-century, including Yawara!, Monster, 20th Century Boys, and Billy Bat, among others, will start a new series in 2017.
The happy news comes from the latest issue of Big Comic Spirits, the magazine which has serialized most of Urasawa's manga, alongside a one-shot manga from Urasawa called "Damiyan," about the members of a yakuza group hanging out in a diner.
Urasawa wrapped up his latest manga, Billy Bat, which he co-wrote with Takashi Nagasaki, back in August. That series ran for eight years in the magazine Morning.
Back in February, the Setagaya Literary Museum in Tokyo held a career-spanning exhibition of Urasawa's works. You can read our report here.
What do you think Urasawa-sensei will write about this time around?
Source: ANN