Mamoru Hosoda Exclusive Interview
Last week, we brought you a transcript of Mamoru Hosoda's public Q&A session on Wolf Children at the New York International Children's Film Festival. We were also able to get some one-on-one time with the famous anime director to discuss things in further detail.
Q: How do you get an animated feature like this made these days— something that's totally original and not based on a TV show or older movie, and obviously quite expensive?

A: Wolf Children was the only animated film released in Japan in 2012 based on original material. Everything else that was released in Japan in 2012 was based on something else. I was fortunate to have very good success with Summer Wars and that gave me leverage to work on an original this time. And the reason I was able to do an original story for Summer Wars was because I had success with The Girl Who Leapt Through Time. So it was because of a continuation of successful films that I was able to make this original movie.
Q: If this succeeds will you be able to make more original movies?

A: Basically I don't really have a preference for originals over adaptations. But right now I am thinking in the direction of original film. As long as it's a good film, I don't have any preference for original over adaptation.
Q: Wolf Children has a rich treatment of nature similar to films like My Neighbor Totoro and Princess Mononoke. What inspired the way nature is treated in the film?

A: The country town that's pictured in the film is actually based on my hometown. Because the movie is about a mother who struggles to raise children, I have a strong connection to the place where I grew up. That kind of resonated with me and I wanted to feature that location in the film, to talk about the mother and have that reflect that upon my hometown.
Q: What town is that?

A: Toyama Prefecture. Kamichi-machi. (The town of Kamichi.)
Q: Is it still like the way it's portrayed in the film, a very wild place with deep forest and lots of animals?

A: Yes, it's still the same. There's a famous mountain in my hometown, in the area where I grew up, called Tsurugi-dake (Mount Tsurugi). It's known to be the harshest mountain in Japan. It's very similar to the Alps and has the nickname of "Northern Alps" in Japan. It's still the same. And that inspired the nature and background that I drew. And, as you mentioned, Totoro has a very big influence on my generation of animators.
Q: Were you raised by a single mother?
A: No, I had both parents growing up, but I lost my father in my 30s and I lost my mother right before I completed Summer Wars. She was in the hospital for eight years and after I completed Summer Wars that kind of stayed with me, the passing of my mother, and that has some reflection in making this film.
Q: Compared to Summer Wars, there's so little technology in this film. No TV, no computers, no cell phones. Why is that?
A: There are two reasons. One is probably because I put all kinds of technologies available in Summer Wars, so after making a film like that I kind of went the opposite way and wanted to make something that was more simple. One thing about technology is that it changes all the time, so when I made Summer Wars, that was at the very beginning of the smartphone. Now when I look back at Summer Wars, everybody thinks that the phone that's in the movie is old. So that's one of the reasons why I didn't want to put anything that's technological in this one. I wanted to make something that's timeless.
Q: I want to ask about modernity vs. Japanese tradition. Yuki starts out as more wolf-like and changes to become more human. Ame starts out more human-like, but ends up wanting to be like a wolf. Japan, since the period of modernization in the late 1800s, has had one foot in the modern world and one foot in the world of Japanese tradition. How does your film comment on these issues?
A: I wanted to make this film to be about growth and change in these people, whether it's a child growing up to realize what they want and what they want to become, or a child that's very wild and untamed, to become more tamed and grow up, to become a grown-up young adult. So this movie is about change and growth, so in that sense, yes I did want to depict that difference in a certain period of time over 13 years. In terms of Japanese culture and modernization, and keeping it old Japan and co-existing at the same time, in the sense of modernization of Japan, I don't think it's quite as summed up as evolution, I think it's something different. But at the same time I think it's a continuation of evolution and a change and the growth of Japanese culture and films like mine, like Wolf Children, are the result of that change and evolution. So ultimately, it is a continuation of that cultural growth of Japanese culture and my film is part of that and it's reflected, it's based on–when you look back–old Japanese movies and Ghibli films, and films like mine are built upon those movies.
Q: There are great music scores in your films, each a different style that fits the film, each by a different composer. What's the process for finding the right composer and coming up with the right style of music for each film?
A: I can't really pick music or a composer until I actually complete most of the storyboard and the story. In respect to Wolf Children, it's a totally different film and it has a different feeling so after I completed the storyboard I found a composer named Takagi Masakatsu, who actually lives in a mountain in Kyoto, and is very strong in composing music that reflects the relationship between human beings and nature, so I asked him to compose the music for this movie. This was his first time composing music for a film.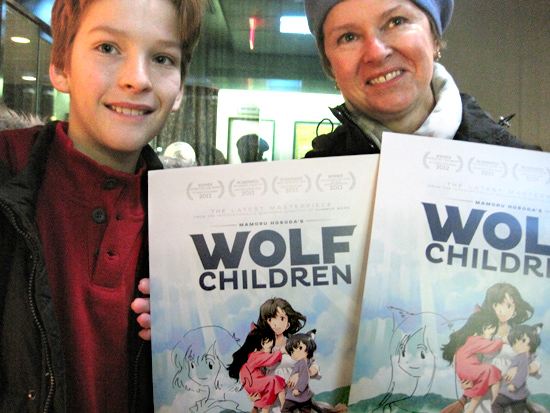 Q: You directed the first two Digimon movies (Digimon Adventure: Born Of Koromon and Digimon Adventure: Our War Game). How did you get that job?
A: I started working for Toei Animation right out of college. Digimon was my directorial debut. As soon as I started working for Toei, I'd been saying, "I want to make movies, I want to make movies" and the producers at Toei Animation were kind enough to let me start it.
Q: Digimon Adventure: Our War Game, the second Digimon movie, is a blueprint for Summer Wars. How did that idea develop from one film to the other?
A: The Digimon movies I did were both 40 minutes each and with Toei Animation that was the only length I was able to work on since I always wanted to make movies. Summer Wars became the feature-length version of that idea because I was constrained by the time of 40 minutes before that, so yes, Digimon kind of started my idea for Summer Wars. And the same thing for The Girl Who Leapt Through Time. I worked on a very short TV anime and that movie was like the extension of the TV anime that I worked on.
Q: Which anime was that?
A: Ojamajo Doremi DOKKAAN! [Bothersome Witch Doremi KABOOM!] Episode 40. That was the start of the idea to work on The Girl Who Leapt Through Time.
Q: Two great film actors worked as voice actors in your films: Bunta Sugawara, who plays Grandpa Nirasaki in Wolf Children, is a great old actor from yakuza movies, and Junko (Sumiko) Fuji who played Granny in Summer Wars, starred in yakuza series like Red Peony. How did you get these two great actors to do voice acting in your films?
A: Even though I no longer work for Toei, I'm always a Toei person. That's where I learned how to make movies. And these two actors are very famous for yakuza movies that Toei made. I've been idolizing them for all my career, so I was very lucky to get them. I did ask them to play the roles. For instance, Miss Fuji was in the movie series, Hibotan Bakuto (Red Peony), so to know that the studio that I worked for had produced that type of movie, is a very big backbone of my career and it gives me a boost to work on my film, knowing that's the studio that I came from.
Q: Do you ever see yourself doing a straight drama in animation without any fantasy elements?
A: I don't really have that desire. I get a lot of comments from people who see my movies that I would maybe be suited to do some live-action feature films and things like that, but I don't really have a desire to make something without fantasy elements at this point. It's not that I put a fantasy element in my movie just to escape from reality. I believe that fantasy stories, including western folk tales and children's books, have some reality in them. There's always something that reflects real life in the fantasy stories. People can learn and see and reflect their own life in the fantasy tales.
Special thanks to FUNimation for arranging this interview and to Chiho Mori, who served as interpreter for the interview.
---
Related stories:
– Mamoru Hosoda's Summer Wars Premieres at NYICF 2010
– Mamoru Hosoda's One Piece Movie
– Mamoru Hosoda's Crayon Shin-Chan Movie
– Ghost In the Shell Director Says Mamoru Hosoda "has no substance"
– The Girl Who Leapt Through Time goes live-action