Madoka Magica: Rebellion Hits Blu-ray in April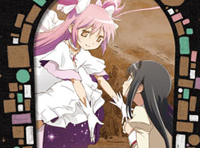 Aniplex of America provided some details for the physical release of Rebellion, the third in the series of Puella Magi Madoka Magica theatrical films. The original movie will arrive on Blu-ray in North America on April 8.
The Blu-ray comes our way as an import, and will be available in Collector's and Standard Edition versions while supplies last. Both versions will come with the movie with English subs, as well as unsubbed bonus content including the theatrical trailer, audio commentary, and textless opening.
Nab the Collector's Edition and you'll also get exclusive new cover art, a deluxe booklet (translation book available through Aniplex of America's official retailers), and original soundtrack CD. Those who purchase the Collector's Edition through MadokaMagicaUSA.com will get three exclusive clear files with the theatrical poster images.
Pre-orders are up for both versions of the release. The Collector's Edition has an SRP of $118.98 and an online store price of $94.98. The Standard Edition has an SRP of $68.98 and a store price of $54.98.