Luffy and Goku Team with Toriko for Anime Event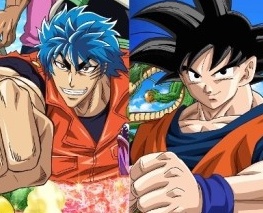 The shonen gods have been smiling down upon their fans quite a bit recently, from new One Piece games to full-color Dragon Ball manga and more, and the latest collaboration between three shonen heavy hitters is a real doozy. One Piece, Dragon Ball, and Toriko are combining forces for an anime special that's set to air in Japan on April 7.
The team-up sports an appropriately enthusiastic title: "Dream 9 Toriko & One Piece & Dragon Ball Z Super Collaboration Special!!" It was announced on the Japanese Shonen Jump website, and the special aims to celebrate the second anniversary of the anime adaptation of Mitsutoshi Shimabukuro's Toriko.
The plot and lineup of the crossover has also been revealed, with Goku, Luffy, and Toriko joining in on the "Tenkaichi Shukuōkai," a no-rules race sponsored by Toriko's International Gourmet Organization. Some of the cast includes Toriko, Sunny, Zebra, Coco, Komatsu, Rin, and Setsuno from Toriko; Luffy, Nami, Chopper, Sanji, Zoro, Franky, Robin, and Usopp from One Piece; and Goku, Gohan, Goten, Trunks, Kame Sennin, Android no. 18, Vegeta, Piccolo, Krillin, Announcer, and Mr. Satan from Dragon Ball Z.