Lift Meat Barbells and Get Bounty at Japan's New One Piece Gym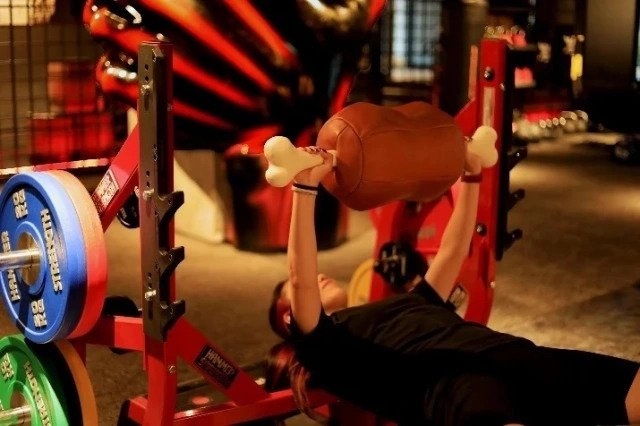 Many people have a New Year's Resolution to get healthier this year, and the One Piece Fitness BragMen gym is here to help with that. Yep, the Shibuya area of Tokyo is home to a One Piece-stylized gymnasium, plus a café that serves healthy foods.
The gym's walls are covered with images from the manga, but it goes beyond that. They have themed classes for adults as well as kids. Adults can take part in Haki Projector Combat, Pirate Pilates, Marine Yoga, and Alabasta Belly Dance.
For younger athletes, there are options of Pirate Kids Dance and Marine Kids Karate.
The equipment is One Piece-themed as well, including a weighted vest called the Shanks Weight Vest (with the mark of Shanks' Red Hair Pirates) and the Meat Barbell (Luffy would approve).
As you reach milestones in your workouts, you can rise through ranks with names like "fugitive marked by the Marines" and "standard pirate crew member." You also get reports on your progress (referred to as your bounty) with images of Luffy on the paperwork.
The next door café is open to anyone, not just gym members. We've seen many desserts and high calorie foods themed after anime and manga, but here's what a healthy meal with an anime and manga theme looks like.
And while there are many pop-up stores in Japan that offer nifty anime themes for a while and then purposefully disappear, this gym isn't going anywhere. The least-expensive monthly membership is 15,400 yen (approximately $119), but tourists or anyone else can purchase a one-day trial membership for 2,200 yen (about $16.94).
The One Piece Fitness BragMen gym only opened a week ago, on January 13, but it's already getting a lot of attention. Will this perhaps lead to more anime-themed gyms in the future? We'll have to watch and see.
Source: SoraNews24
____
Danica Davidson is the author of the bestselling Manga Art for Beginners with artist Melanie Westin, plus its sequel, Manga Art for Everyone, and the first-of-its-kind manga chalk book Chalk Art Manga, both illustrated by professional Japanese mangaka Rena Saiya. Check out her other comics and books at www.danicadavidson.com.