Kuroneco: Maids and Beers in Nakano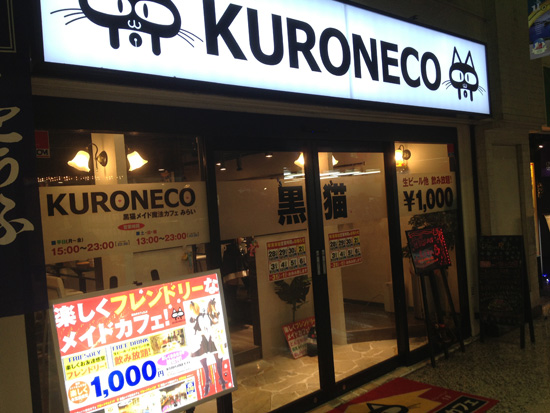 The concept of nomihoudai may be Japan's greatest contribution to the world of restaurateuring. Literally "all you can drink," nomihoudai allows you to pay a flat fee for as much drink as you can consume within a time limit. It's an affordable option for drinking in a country where alcohol can be surprisingly expensive, although trying to get your money's worth can be potentially dangerous for both novice and experienced drinkers. Still, it's something of an institution among restaurants in Japan and as such it's not too surprising that somebody decided to combine it with another modern Japanese institution, the maid cafe.
Despite the name, the Kuroneco Maid Cafe, located on the first floor of Nakano Broadway, is actually something closer to a bar. It still has the maids and the shelves adorned with anime figures to let you know that you're among people who understand you, but the feeling is considerably more laid back, thanks in large part to the bar-inspired set-up. A variety of bar food is available for 500 yen (pizza, french fries, etc) but the real draw is the nomihoudai. For 1000 yen (about $12 US) you'll get 30 minutes (20 minutes after 8pm) of as much beer or cocktails as you can put down.
It's not the best nomihoudai deal in town, but that's largely because you're not paying to drink in the company of you and your friends, but to drink while talking to the girls who work there. Truth be told, it isn't that much different than any other bar in any other place in the world, except that the girls behind the bar wear maid uniforms and put on a show of acting as cute as possible. You don't exactly need a PhD in otaku studies to guess that those who aren't fans of the maid cafe experience are still going to find Kuroneco a bit uncomfortable, but it certainly offers something a bit different for those who are fans.
During our time at Kuroneco we stuck to the old standby of draft beers, but bottled beer like Guinness and Heineken are available as well, along with a variety of cocktails. Considering that the inflated prices of Guinness in Japan match the overrated stout's inflated reputation, 1000 yen is downright reasonable. Although, as always, it becomes a question of if you can drink enough to make it worthwhile. While we certainly advise against testing your limits, having a few drinks in a unique environment isn't such a bad deal for 1000 yen.
The staff didn't seem to have much experience dealing with foreigners, so it's probably a good idea to make sure you can speak some Japanese, or bring someone who does. The cafe itself is easy to find, once you enter Nakano Broadway through the main entrance, keep going until you see the Kuroneco sign on your left. It's right across from the store with the huge piles of shoes.