Kiss Him, Not Me Anime Adds Cast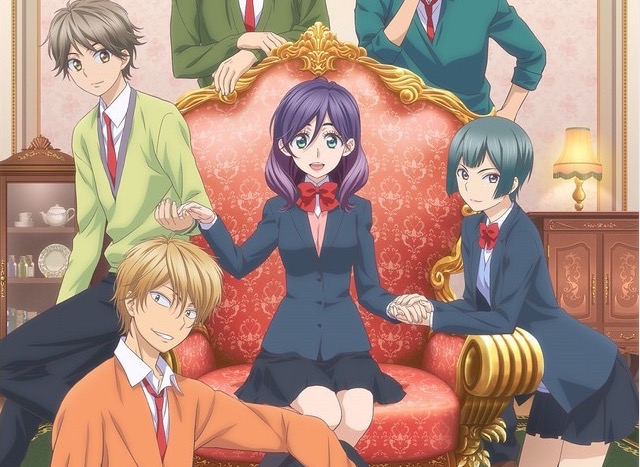 The Brain's Base anime adaptation of Junko's Kiss Him, Not Me manga is gearing up for its October 6 debut, so the official website had more cast members to announce. Peach Girl's Hiroshi Ishiodori is directing the series, with Michiko Yokote (Shirobako) on series composition and Kazuhiko Tamura (Gunparade Orchestra) on character designs. 
First, here's a quick list to catch everyone up on the previously-announced cast members:
CHARACTER – ACTOR
Kae Serinuma – Yu Kobayashi
Hayato Shinomiya – Yoshitsugu Matsuoka
Yūsuke Igarashi – Yuuki Ono
Asuma Mutsumi – Nobunaga Shimazaki
Nozomu Nanashima – Keisuke Koumoto
Shima Nishina – Miyuki Sawashiro
The latest additions are:
Amane Nakano – Asami Shimoda (Lingyin Huang in Infinite Stratos)
Mitsuko Serinuma – Yuu Sugimoto (Catherine in Gintama)
Takurō Serinuma – Takahiro Mizushima (Rollo Lamperouge in Code Geass)
Shion (left) – Daisuke Namikawa (Tōru Oikawa in Haikyu!!)
Tera (right) – Kenjiro Tsuda (Mikoto Suoh in K)
Kazuma Mitsumi (not pictured) – Yūichi Nakamura (Guren Ichinose in Seraph of the End)
Here's a description of the story from Crunchyroll, which simulpubs the manga:
Kae Serinuma is what you'd call a "fujoshi." When she sees boys getting along with each other, she loves to indulge in wild fantasies! One day her favorite anime character dies and the shock causes her to lose a ton of weight. Then four hot guys at school ask her out, but that isn't exciting to her at all — she'd rather see them date each other!
Source: Comic Natalie via Anime News Network