Jojo's creator Araki Teams Up With Gucci, Others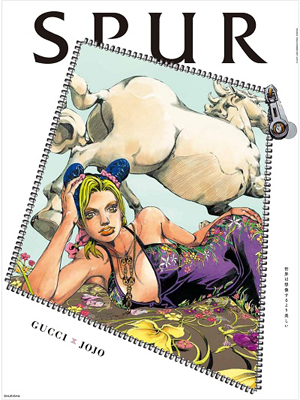 If you, like me, have been watching the TV anime adaptation of Jojo's Bizarre Adventure over the past few months, or reading the latest manga entry, Jojolion, then you probably already know series creator Hirohiko Araki is the bee's knees, top of the pops, too cool for school.
While the Jojo's marketing machine chugs on, celebrating the 25th anniversary of the series' serialization with a TV show and video game, Araki remains as prolific as ever in his own very special way. First, his second collaboration with famed Italian clothing company Gucci appeared in the pages of Japanese fashion magazine SPUR this month. The 24-page, full-color story, called Jolyne, Fly High With GUCCI, is a non-canon spinoff in which Jolyne Kujo, the protagonist of part 6 of Jojo's Bizarre Adventure, runs into Bruno Buccellati and Leone Abbachio, two major characters from part 5, while waiting at the airport. Of course, all of the characters are dressed entirely in wares from the Gucci 2013 Cruise Collection.
But that's not all! Araki is also at the heart of an unlikely collaboration with singer Sayuri Ishikawa. For this year's 63rd Annual Red and White Singing Contest, in which current popular singers compete for the nation's affections by belting out covers of old hits, it's been announced the background appearing behind Ishikawa during her performance will be handled entirely by Araki. The collaboration came about when Araki handled the jacket artwork for Ishikawa's album X-Cross-, itself a collaboration album with other artists celebrating her 40th anniversary as a performer. Suffice it to say, Araki will likely refrain from including Jojo's characters in this one.
…Or will he?
Source: Mantan