JoJo's Bizarre Adventure Promises 'Big news' This Summer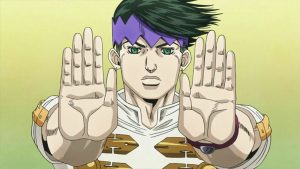 The JoJo's Bizarre Adventure franchise is coyly teasing an announcement on the wraparound jacket band of the collection of Thus Spoke Kishibe Rohan short stories. Hirohiko Araki's series has "big news" on the way this summer, so hopefully we won't have to wait too long to find out what it is.
Next up for Thus Spoke Kishibe Rohan is a followup anime DVD, which hits shelves in Japan on July 19 along with the spinoff manga's second volume. Toshiyuki Kato directs the adaptation of the second episode from the manga's first volume, with Shun'ichi Ishimoto on character designs at David Production. 
Beyond that, JoJo's Bizarre Adventure TV anime director Naokatsu Tsuda will be attending this year's Anime Expo as a guest.