It's a Boy Band Body Swap in the Silly and Fun Star Crossed!! Manga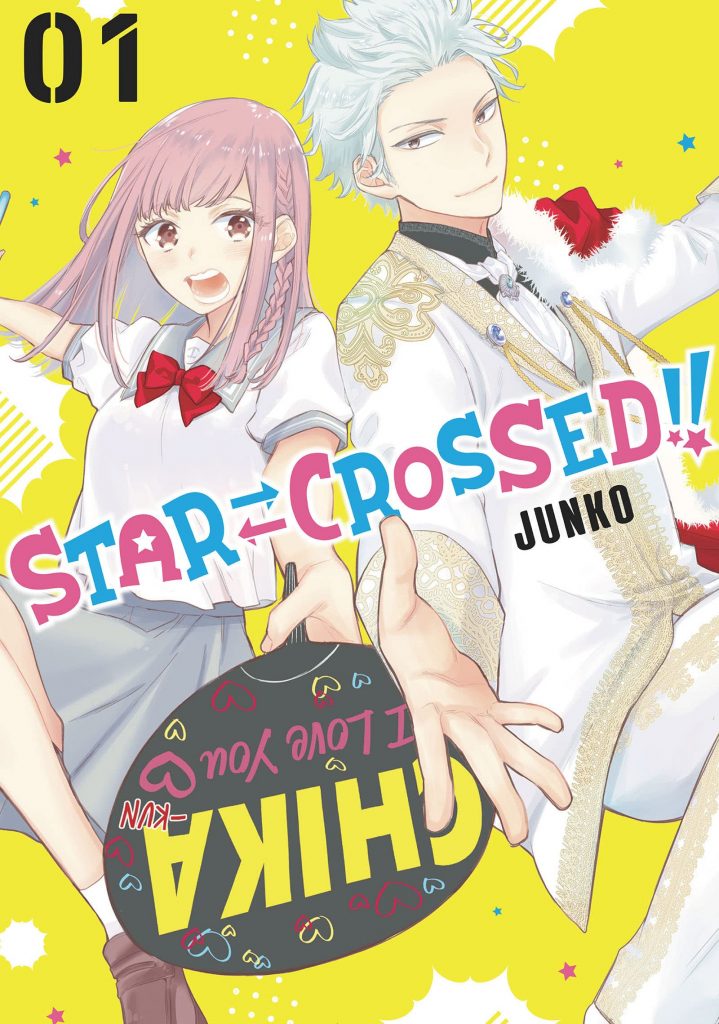 Like many teenage girls in the world, Azusa is obsessed with a boy band. She's given her heart to band member Chikashi Chida and has plastered her room with posters of him. But unlike many teenage girls, Azusa actually gets to body swap with her crush.
It starts when Azusa is in the front row of a Prince 4 U concert. (The band's nickname, P4U, doesn't translate so well into English.) When heavy equipment starts to fall on the stage, Azusa rushes over and tries to push Chika-kun out of the way. Instead, they're both crushed and end up in heaven, where God is waiting for them.
Azusa is more worked up to be around Chika-kun than God, but the deity tells them there's been a mistake and it's not their time yet. The teenagers are sent back alive and well to earth—but in the wrong bodies.
If you can't be with your idol, the next best thing is to be your idol.
Azusa is overcome to be in Chika-kun's body, but she makes him (in her form) take care of things (for her new form), like going to the bathroom and bathing. There are some bawdy jokes, but because it's rated 16+, the manga doesn't go as far into the body swap thing as it could. They switch back, think everything is fixed, and then end up swapping bodies again. God sends them a note that signs off with "My Bad." If the Almighty can't fix it, what are they going to do? Can he pretend to be a teenage girl and she a teen heartthrob?
Needless to say, Star Crossed!! is a silly romantic comedy with lots of fluff and purposeful absurdity. On the one hand it's a lightweight shojo comic, and on the other it pokes fun at itself and knows it's being over-the-top. Junko, the mangaka behind it, is the creator of Kodansha's Kiss Him, Not Me! and includes a little story from her previous series in the end of the book. Body switches have occurred in everything from Freaky Friday to Ani-Imo, probably because so many of us have wondered what it'd be like to be someone else. Star Crossed!! could be a special hoot to fans of both boy bands and shojo manga, and is a digital-only release.
Story & Art: Junko
Publisher: Kodansha
_____
Danica Davidson, along with Japanese mangaka Rena Saiya, is the author of Manga Art for Intermediates. In addition to showing how to draw manga character types in detail, the book describes how professional Japanese manga creators work, including common techniques and what drawing utensils they use.