IRL Escape Game Lets You Fight Demons with Tanjiro on the Mugen Train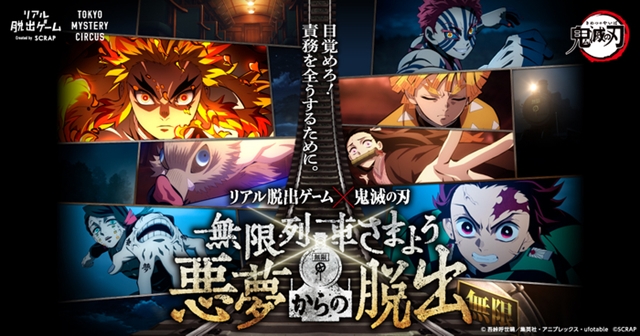 The popularity of Demon Slayer means lot of Demon Slayer events and merchandise, and TOKYO MYSTERY CIRCUS has announced an upcoming Demon Slayer escape game.
Called "Mugen Ressha: Samayou Akumu kara no Dasshutsu" (translated as "Mugen Train: The Escape from The Wandering Nightmare"), you and a group of up to six people will be on the Mugen train. You're part of the The Demon Slayer Corps, but Enmu's Blood Demon Art causes you to drift off into sleep. Once you're done sleeping, you find yourself with protagonist Tanjiro and the Flame Hashira Kyojuro Rengoku, and you'll work with them to fight demons and get off the train alive.
Part of the escape game consists of solving riddles, but it won't all be cerebral. You'll also be given a Nichirin Sword to fight the demons. So if you've ever wanted an opportunity to feel as if you were really in Demon Slayer, here's your chance. A trailer for the event has been put online:
TOKYO MYSTERY CIRCUS' Real Escape Game has previously worked with the franchises Attack on Titan, JUJUTSU KAISEN, Detective Conan (Case Closed), Tokyo Revengers, and Love Live! Sunshine!!.
The whole game will take two hours. It's located at the TOKYO MYSTERY CIRCUS Himitsukichi Lab Main Hall in Tokyo. The game launches on October 27 and will stick around until January 24 of next year.
The Demon Slayer franchise has been a massive success in Japan and abroad. VIZ Media publishes the manga in English, and gave this description of the first volume:
"Learning to destroy demons won't be easy, and Tanjiro barely knows where to start. The surprise appearance of another boy named Giyu, who seems to know what's going on, might provide some answers—but only if Tanjiro can stop Giyu from killing his sister first!"
Source: Crunchyroll News
____
Danica Davidson is the author of the bestselling Manga Art for Beginners with artist Melanie Westin, plus its sequel, Manga Art for Everyone, and the first-of-its-kind manga chalk book Chalk Art Manga, both illustrated by professional Japanese mangaka Rena Saiya. Check out her other comics and books at www.danicadavidson.com.