INTERVIEW: Author Keisuke Uyama and Artist Heikala Talk Love Like the Falling Petals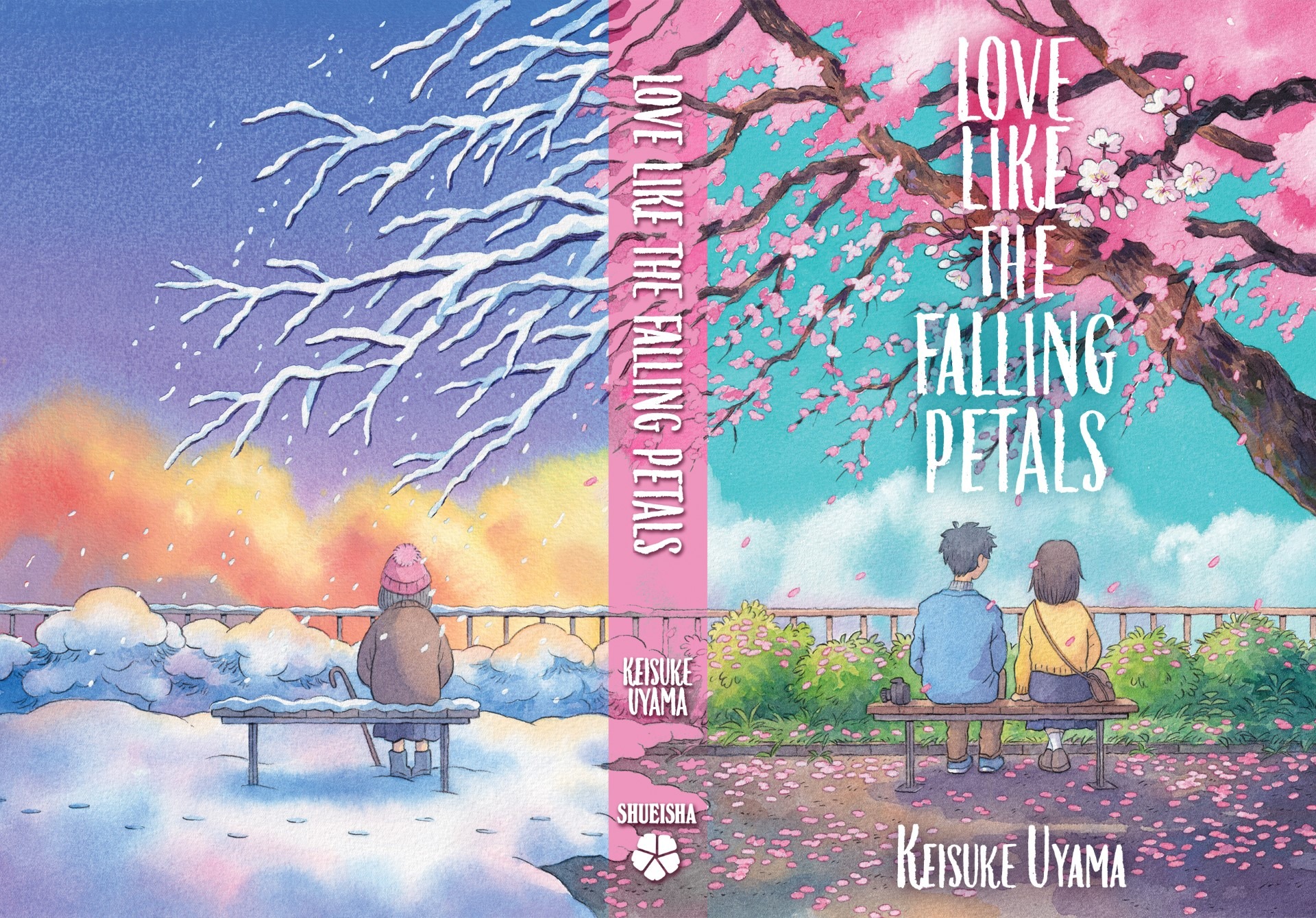 Media Do International, Clover Press and Shueisha are all working together on a Kickstarter for the English translation and publication of romance novel Love Like the Falling Petals, which has been a bestseller in Japan and received a live-action Netflix adaptation. The Kickstarter is currently live, and Otaku USA spoke with author Keisuke Uyama and cover artist Heikala about the story, what they want readers to take away, and what they'd like North American fans to know about them.
---
Author Keisuke Uyama interview
What inspired you to write Love Like the Falling Petals?
It's a special story that took many years to be realized. When I was 20, I dreamed of one day becoming a writer. I remember walking down a hallway in college when I suddenly came up with the story outline for the novel.
Aging is inevitable. It's everyone's fate. The story of Love Like the Falling Petals is a love story between a heroine whose fate is to age dozens of years faster than others, and the young man who falls in love with her.
In retrospect, the inspiration I had at the time may have been a gift from the gods of storytelling. But I was still young when I came up with the premise and didn't have the writing skills to turn the idea into a novel, nor the means to publish a book, so I quietly filed the story away in a drawer in my mind.
Many years after my college days had passed, I was lucky enough to make my debut as a novelist. After finishing my first novel, I was discussing with my publisher what my next project might be and mentioned the idea for what became Love Like the Falling Petals as my next novel. That's when I really began writing the book.
In addition to the original idea I had when I was in college, the story grew to reflect what I had learned in my life and my experiences. It took me more than 10 years from the original concept to finish the story.
What is it like having a Netflix adaptation of your work?
It is a great honor for me. In Japan, love stories such as this one, in which a young woman ages faster than others, are difficult to visualize in both film and TV dramas. The subject matter is somewhat shocking, and I think this is the reason why film and TV studios were hesitant to visually depict this type of story. I had long wanted to make a film of the novel but was turned down so many times, I was about to give up. The situation changed when very popular Japanese actor Kento Nakajima discovered and read the novel on his own then publicly declared that he liked it. Netflix then showed interest in making a film, and my long-time dream came true. Netflix had been actively producing a variety of challenging projects so they had a favorable view of the story, and the director, screenwriter and producers all took a careful look at the original story.
When making the film, I asked them to face the depiction of Misaki's aging head-on. This film is about Misaki, a woman with a painful fate who tries hard to fall in love and live her life despite her circumstances, and I did not want them to shy away from that in the film adaptation. The Netflix team understood this and reflected the novel's beliefs in the film in every way. I'm thrilled that the passion of all the actors' performances, the beautiful world view of the director and screenwriter, and the skill of the top-notch crew combined to create a wonderful result in every scene.
As the author of the novel, it is my greatest joy that a very small story that I came up with as a student when I was 20 years old has become content that can be seen by people all over the world, thanks to various fortunate events.
What would you like readers to take away from your book?
One of my beliefs as a writer is that I try as much as possible not to have a reader feel a certain way. I have a clear theme for my novels, and there are many important elements that I want readers to feel. However, I want to leave it up to each individual reader to decide what he or she feels and what he or she takes away from the story.
This story is not only a love story between two young people, but also a story of growth, in which characters have to face the reality of their own lives, challenge dreams they had almost given up, and try to change for the sake of their loved ones. It is also a story of familial love between the heroine's older brother and his fiancée. Therefore, I hope that each reader will take with them a theme that is relevant to his or her life at that moment, or something that touches his or her heart.
I am the creator of the novel, but the story becomes about the reader the moment it reaches his or her hands. My greatest hope is that the story will stay with the reader and resonate with their life.
Is there anything else you'd like North American fans to know about you?
I originally started my writing career as a screenwriter and have written several TV dramas and movies. When I was a student, I studied Japanese literature, but as I read novels by Haruki Murakami, whom I admire, I realized that I did not have the ability to write such delicate sentences, and at that time, I wanted to work as a screenwriter rather than a novelist. So it is a wonder that I am now writing novels. Thanks to a wonderful opportunity, I am now able to work as a novelist.
When I was a student, I thought I could never write a novel, but now novel writing is my life's work, and my goal and purpose in life is to vividly and beautifully depict the scenery, colors, and air of this world, and to carefully describe the lives and minds of characters.
And when I write a novel, I make the most of my skills as a screenwriter to write a story. In creating a visual work, dialogue and structure are important. I believe that my specialty is to bring these screenwriting skills into the world of novels and dramatize the story. I would like to continue to improve my skills as a novelist and continue to write stories that only I can depict by combining my screenwriting skills with my book writing skills.
I hope you will read Love Like the Falling Petals and support me for many years to come. Thank you very much.
---
Artist Heikala interview
How did you get involved with this project?
I was contacted by Media Do International for the opportunity to create the cover artwork for the book. [MD-i is the partner manager for publisher Shueisha for Love Like the Falling Petals.] The publisher (Shueisha) was hoping to have an overseas artist create the cover illustration for the translated version and they thought my art style would work well with the Love Like the Falling Petals story.
How does Japanese animation influence your work?
Japanese animation has had a huge impact on my artistic growth. When I was a child, I was inspired by the Tanoshii Mūmin Ikka TV series in addition to the My Neighbor Totoro movie and the Pokémon series, which were all shown on TV in Finland when I was little. I started imitating the style of the characters and creatures I saw in those animations and that influenced my art style greatly.
What did you want to accomplish with your art for Love Like the Falling Petals?
I wanted to create an artwork that portrays the story of the book in a single scene. I enjoy creating art where the viewer can think of the story behind the illustration, so that is what I wanted to accomplish with my art, in addition to creating a vibrant full-of-life painting.
Is there anything else you'd like North American fans to know about you?
Last year was actually the first time I was able to see the cherry blossoms in person! We don't have many cherry trees in Finland, so I was happy to witness their charm in Tokyo before painting the cover artwork for the book and capturing their beauty on paper.
____
Danica Davidson is the author of the bestselling Manga Art for Beginners with artist Melanie Westin, plus its sequel, Manga Art for Everyone, and the first-of-its-kind manga chalk book Chalk Art Manga, both illustrated by professional Japanese mangaka Rena Saiya. Check out her other comics and books at www.danicadavidson.com.