I Don't Understand What My Sister's Friend Is Thinking Is About Shy Crushes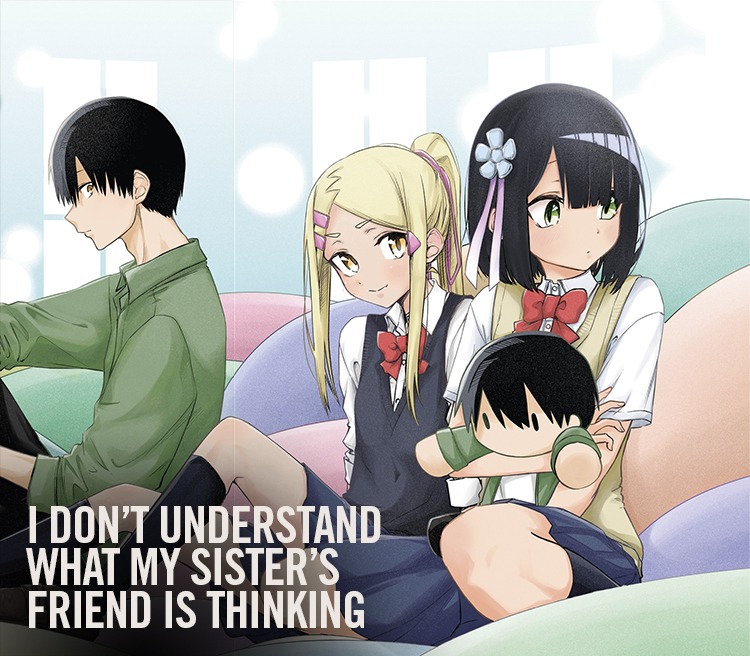 I Don't Understand What My Sister's Friend Is Thinking is a laid-back slice-of-life manga. The main character, a teenage boy, really doesn't know what his sister's friend is thinking. His sister, Chie, likes to bring her friend Tsuyu around. Tsuyu stares at the protagonist like a girl with a crush on him, and even makes him a misanga. But she barely talks, and a lot of her communication consists of nodding. The artwork style might also change to show how flummoxed she can get around people.
Chie, on the other hand, is very loud and outspoken, and eager to help out her friend. The three end up hanging out more and more, until eventually Chie gets sick and the protagonist and Tsuyu go to the aquarium by themselves.
The manga feels very tranquil, like a relaxing read. So far it doesn't have a complex plot, but instead concentrates on the characters and the everyday life things that happen to them. Each character has a distinct personality, with the protagonist an easygoing, friendly guy. A few moments are humorous, especially around the gimmick of Tsuyu's shyness. But over time Tsuyu starts to talk a little more, showing her character develop and become stronger about overcoming fears and insecurities. Chapters are often short, maybe 12 pages, moving the story along quickly, though at the same time going at a languid pace. The mood is very different from bombastic fighting manga or heart-pounding romance manga.
The manga feels as if it's more aimed for a male audience because of the male protagonist, but it's something anyone who wants a simple slice-of-life manga can enjoy. The artwork is clean and gets the point across, and sometimes stylizes itself to fit the situation. It is published exclusively on the digital manga app Mangamo.
Story & Art: Rei
Publisher: Mangamo
Translator: Dan Lu
____
Danica Davidson is the author of the bestselling Manga Art for Beginners with artist Melanie Westin, plus its sequel, Manga Art for Everyone, and the first-of-its-kind manga chalk book Chalk Art Manga, both illustrated by professional Japanese mangaka Rena Saiya. Check out her other comics and books at www.danicadavidson.com.