I Don't Know How to Give Birth! is a Humorous Memoir About Becoming a Mom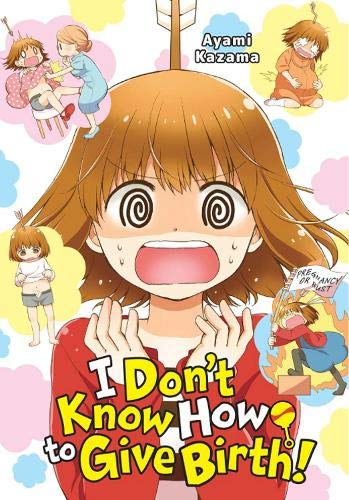 Having a child is something fairly common in this world, but that doesn't mean it's easy, and that doesn't mean it always gets talked about authentically. Mangaka Ayami Kazama, who has previously published romance and autobiographical manga, gives a very honest portrayal of her path to becoming a mother in I Don't Know How to Give Birth!
Kazama and her husband, mangaka Azure Konno, initially have difficulty conceiving. This leads Kazama to multiple doctor visits and different attempts to get pregnant. She shows the emotional roller coaster and how difficult this can be, while at the same time showing humor in her telling. Eventually she gets pregnant through IVF, and then the story turns to the trials and tribulations of going through pregnancy. It gets into body changes, hormonal changes, and Kazama's ever-growing neurosis about things that could go wrong. The story shows her giving birth, and then gets into the first months of motherhood, where Kazama is exhausted and worried that she doesn't have the right motherly instincts.
Though parts of the book deal with serious subjects, Kazama treats the situation as a comedy of errors and neurosis. She pokes fun at her own foibles, while showing honestly why she would feel the way she does. If nothing else, this manga gives a real appreciation of the many challenges that go into becoming a mother, especially if the woman has trouble getting pregnant to begin with. Kazama's husband Azure Konno also writes mini-manga between chapters to give his perspective. He gets in his fair share of jokes, but also shows his awe of what Kazama was able to do.
I Don't Know How to Give Birth! is a single volume that could be a fun gift for baby showers or to manga fans who have — or will — become parents. But it also can be read and appreciated by people who have nothing to do with parenting or kids, who can just enjoy how Kazama turned real life into this emotional and entertaining story.
Story & Art: Ayami Kazama
Publisher: Yen Press
____
Danica Davidson is the author of the bestselling Manga Art for Beginners with artist Melanie Westin, and its sequel, Manga Art for Intermediates , with professional Japanese mangaka Rena Saiya. Check out her other comics and books at www.danicadavidson.com.