Higurashi When They Cry: Demon Exposing Arc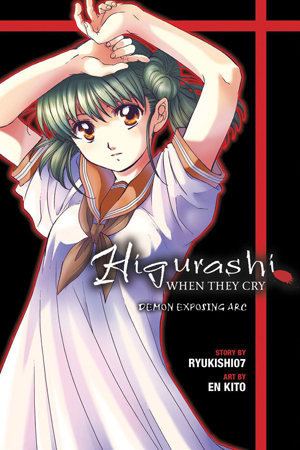 At the beginning of the Demon Exposing Arc, Natsumi is a nice, normal girl who lives with her mother, father and grandmother. By the end the family is filled with horror and not everyone is still alive.
Natsumi is having a good day at first, because it turns out the boy she likes at school also likes her. The feeling of elation changes, however, once she gets home and hears the news. Volcanic gas has engulfed the village of Hinamizawa and killed everyone. Natsumi's grandmother is originally from Hinamizawa, and she believes this is the curse of Oyashiro-sama, the deity of Hinamizawa. She's always been devoted to the deity, even having a shrine in her own home to give prayers to every day. The other members of the family don't take this devotion very seriously, but the grandmother is passionate about it. She believes her family is in danger for leaving the village and soon they'll feel the wrath of Oyashiro-sama. The grandmother will go to charms and even killing in order to protect her family.
As if that isn't bad enough, it continues to spiral out of control until it results in the murder of a family member who is then dismembered and scattered to fool the police. Nevertheless, the police find the head and it will only be a matter of time before they know what really happened. This murder and dismemberment leads to another murder and the cycle feels as if it will never end. Natsumi is caught up in the midst of this horror, unable to stop it or go to anyone for help.
Demon Exposing Arc is a side story to Higurashi When They Cry and is published in one omnibus volume instead of two separate books. I think it's the most gruesome book of the Higurashi series that I've read, but it also hooked me. I got more into it than other volumes. There were a few twists in it I didn't see coming, so I don't want to go into too much detail on the plot for fear I could give it away to any potential readers. It really built itself up, establishing the horror and mystery; I wanted to know what would happen next. It's not the type of book to leave you in a happy mood… look at the subject matter… though for what it is, it was done very well. It's super creepy but also has some smarts to it.
Publisher: Yen Press
Story: Ryukishio7
Art: En Kito