Happy Yaoi Day!
Did you notice today's date? It's August 1, which means it's 8/1 or 801 . . . which means it's Yaoi Day! If you're in the mood for yaoi, shonen-ai, BL, you name it, here's a list of places for you.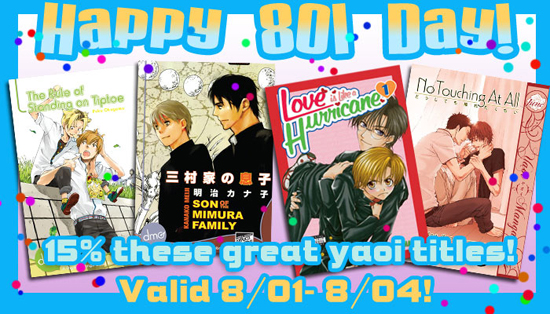 Digital Manga Publishing
Digital Manga Publishing is probably the best-known publisher of yaoi, and that's for a reason. A good percentage of their titles involve male/male relationships, and their company is split up into different imprints, like Juné and 801 Media. They also put on Yaoi Con!
SuBLime
It was only a matter of time before VIZ got in on the yaoi action. They launched their own yaoi manga line, SuBLime, in 2011. At first you could only get their titles digitally, but since then they've begun publishing in print.
Right Stuf
Right Stuf's got, well, the right stuff. Gravitation and Junjo Romantica are both m/m titles, and Antique Bakery definitely has some shonen-ai elements. They're also behind yaoianime.com.
NETCOMICS
Sometimes people think of BL as being a Japanese thing, but that's definitely not the case. NETCOMICS publishes both BL manhwa and BL manga. You can also read Yaoi Press titles on their site.
Yaoi Press
Yaoi Press, founded by Yamila Abraham, is an American yaoi publisher that has artists and writers from around the globe. It's been around for almost a decade, and you can also check out Yaoi Prose, where you can read yaoi novels.
Manga Entertainment
Manga Entertainment streams anime on its site, including shonen-ai titles like Descendants of Darkness, which has aired on both the SyFy and Chiller channels, and Right Stuf's Gravitation.
Yen Press
Yen Press doesn't get as into BL titles as some other manga publishers, but if you know where to look (hint, hint, Tale of the Waning Moon) you'll find some.
Fantagraphics
Feel like reading a classic? Fantagraphics publishes Moto Hagio's The Heart of Thomas.
Dreamspinner Press
Dreamspinner Press is an American publishing company that publishes m/m romance novels. Some of these, like Strawberries and the Beast, have a distinctly Japanese influence.
Samhain Publishing
Samhain Publishing is another American company where you can get m/m books, including ones with a major Japanese influence. But while Dreamspinner Press concentrates entirely on LGBT titles, Samhain publishes other types of books, as well.
GEN Manga
You might not think seinen and boys' love go together… but why shouldn't they? GEN Manga, a publisher of seinen doujinshi, also has some boys' love for its readers.
McFarland
Tired of your uncool friends making fun of your fangirlishness? Then read McFarland's scholarly pop culture book Boys' Love Manga, and show your friends yaoi can be spoken about in an intellectual way. (Not that "Ohhh!  Squee! Hot!" isn't acceptable commentary.)
This is by no means an exhaustive list, but it should hopefully keep you busy for a while. Yaoi fans, what companies do you like best for your yaoi, shonen-ai and BL?