Hajime Isayama: There's About 5% of Attack on Titan Left to Go
Hajime Isayama's colossal hit manga Attack on Titan is lumbering toward its conclusion.
That's the word from the author himself, who recently appeared on the Japanese show Shin Joho 7days Newscaster.
In an interview with the show, Isayama revealed that there is "about 5%" left of the manga to write. When asked if he feels sad about the rapidly-approaching ending, he said, "I feel like I want to finish it" and that "it feels like I'm nearly at the end of a marathon."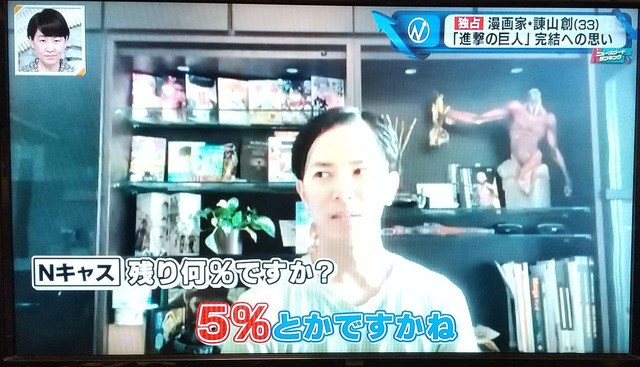 Other highlights from the interview:
Isayama knows what's going to happen to the characters, but won't be sure how exactly to express the feeling behind what happens until he starts drawing.
For his next manga, Isayama wants to try his hand at a black comedy. He also wants to… build a sauna. Seriously.
He wants to end Attack on Titan "properly," in a way readers will accept.
Attack on Titan kicked off in the pages of Bessatsu Shonen Magazine in 2009, and has been adapted into three seasons of anime and two live-action films. The fourth and final anime season is set to hit screens this fall. Here's how Kodansha Comics describes the first volume:
Humankind is down to just a few thousand people who live in a city surrounded by three concentric walls. The walls protect them from their enemies, the ravenous giants known as the Titans. The Titans appear to have only one purpose: to consume humanity.
For one hundred years, what's left of mankind has lived in the city on earth, protected by walls that tower over even the Titans. Untouched by the Titans for a century, humanity has become complacent. But Eren Jaeger has had enough. While his fellow citizens are content to hide, Jaeger has the passion to take action to not only protect the city, but to learn what the Titans actually are. On his first mission he comes face to face with horrors beyond his imagination… and secrets from his own past that could shift the tides of war.
Source: Otakomu