Goodbye, DonGlees! Anime Film Adds Kana Hanazawa to Cast
A new cast member has been revealed for Goodbye, DonGlees!, an original anime film that's on the way from director Atsuko Ishizuka (No Game, No Life, A Place Further Than the Universe). Joining the main cast consisting of Natsuki Hanae (Tanjiro Kamado in Demon Slayer), Yuki Kaji (Eren Jaeger from Attack on Titan), and Ayumu Murase (Shoyo Hinata in Haikyu!!) is Kana Hanazawa (Shirase Kobuchizawa in A Place Further Than the Universe), who will voice the photography-loving student Chibori Urayasu.
Hanazawa (pictured below) commented on the role: "When I received the offer, I was very happy to be involved in director Atsuko Ishizuka's work again. Chibori, the girl I'll be voicing, is a camera-loving, slightly mature girl who plays an important role in the story. And the content of the film is already too good… I enjoyed it immensely, being tossed about as the story unfolded. I hope you can see DonGlees' rich coming-of-age story on the big screen!"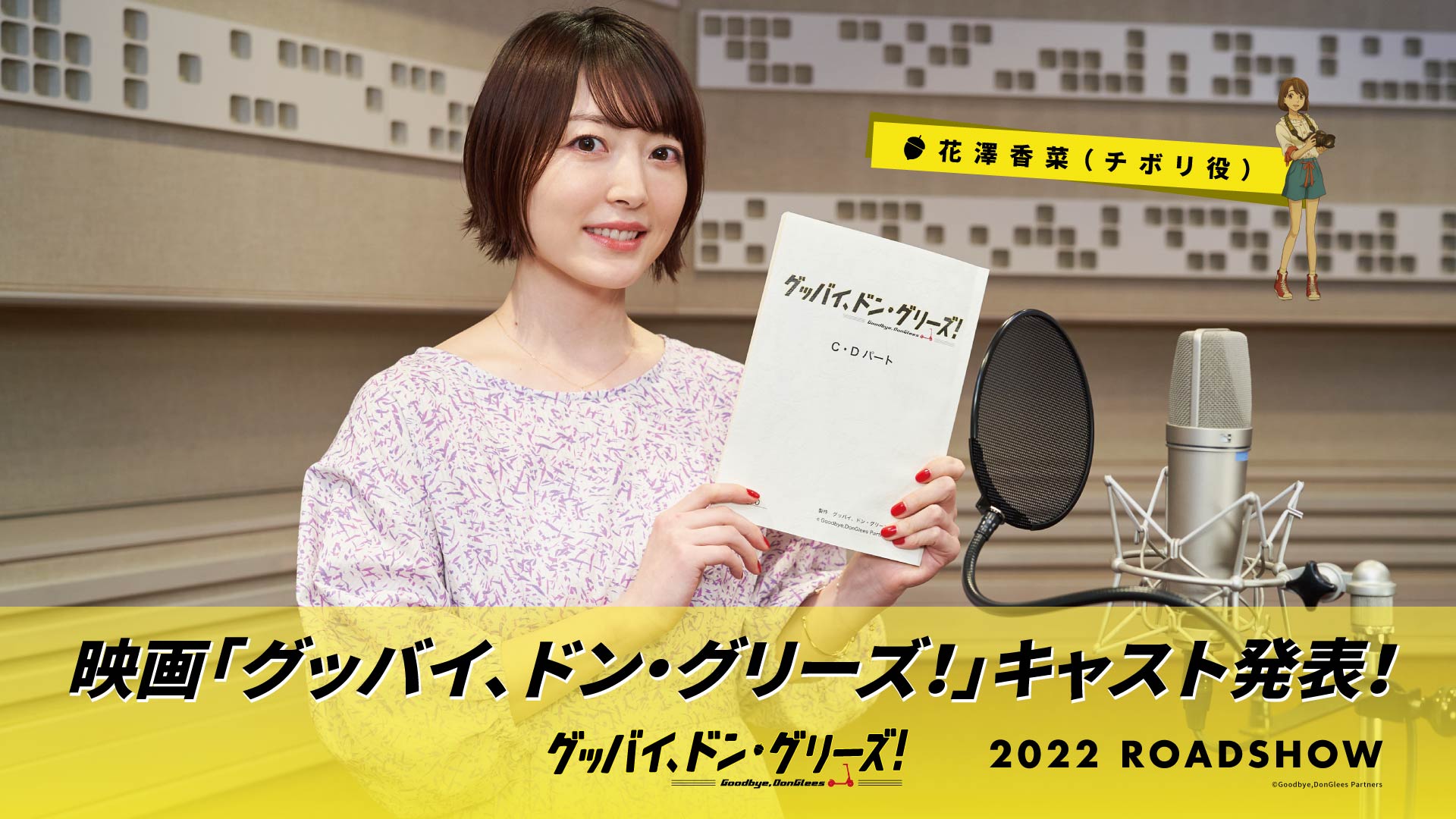 Here's the synopsis for Goodbye, DonGlees!, which opens in Japan in 2022:
A young boy named Roma lives in a rural town a short distance from Tokyo. He can't seem to fit in with his surroundings. He and Toto, who is also an outsider, form their own team called "DonGlees." The relationship is supposed to remain the same even after Toto goes off to high school in Tokyo and they are separated.
"Hey, don't you want to look down on the world?" The summer vacation of the first year of high school. It started with a casual comment from Drop, a new member of "DonGlees." As a result of Drop's words, Roma and the other two who are framed for the forest fire are forced to search for the drone that disappeared into the sky in search of proof of their innocence. The small adventure in the summer soon turns into a big adventure that will drastically change the way of the boys' lives.
Via Crunchyroll