Going Digital with Shonen Jump Alpha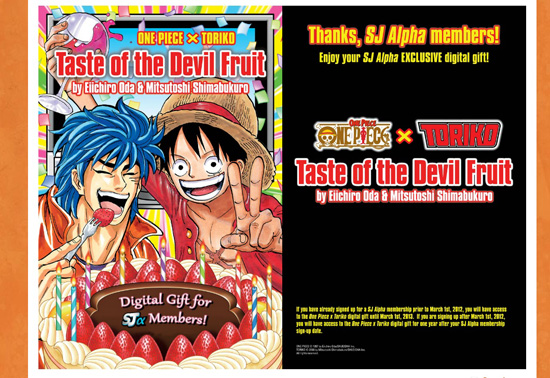 Confession: I wasn't a regular subscriber to Shonen Jump magazine. Unfortunately, there was never a point at which I was caught up enough with any of its series to warrant picking it up, but I still grabbed the occasional issue from bookstores and the ever dependable local grocer. Thus I, like many, was bummed when it was announced that the print version of Jump would be coming to an end in an effort to take things to the digital realm. And just as I was finally getting up to speed on One Piece (more on that later)! Still, while I suppose all good things must eventually come to an end, the dawn of Weekly Shonen Jump Alpha gave us as good a reason as any to finally check out Viz's manga app, and see how the magazine is doing in its new form.
The first order of business is getting the negativity out of the way. Yes, it always sucks to see something physical go out of print. I've got one of the final issues of Shonen Jump sitting on my desk next to me as I write this, and it's great. Even when I wasn't picking it up, it was just nice to know that a monthly, relatively up-to-date U.S. edition of Jump was on the shelves for manga fans of all ages to enjoy. And print is awesome! Because of print you can read cool magazines like Otaku USA, right? Well, whether you're happy about it or not, Shonen Jump as we once knew it is no more. The good news about all this? While print may indeed be a fantastic thing, Viz is now able to provide an even more timely service with Alpha, removed from the restrictions of physical media.
That's really what Shonen Jump Alpha is all about, and those who want to keep up to date with their favorite series won't find a faster legitimate outlet. Ideally I'm addressing a group of people who use their money to support the artists that create manga and the companies that distribute them, but let's be realistic here. Odds are at least a handful of you have or currently do read scanlations online, and some will even scoff at the fact that Shonen Jump Alpha's chapters of One Piece, Naruto, Toriko, Bleach, Bakuman, and Nura: Rise of the Yokai Clan are "a couple weeks behind." I'll balk right back at that, because it's crazy to think that we can now read the most popular shonen manga in English just a week or two after they're published in Japan. I think we can all agree that's pretty rad.
Subscribing to SJA creates a My Membership row above the My Manga Volumes stack in your personal Viz Manga library, and issues are automatically updated as they come out each week. As for the Viz Manga website, it's a pretty comfortable way to read manga online if that's the way you need to do it. Cycling through pages isn't quite as speedy as it is on the app, which we'll get to next, but it looks nice, and bookmarking pages carries over when you decide to take your manga with you on the go via the Viz Manga app.
If you have access to an iPhone, iPod Touch, or iPad running iOS 3.2 or later, the app is the way to go with SJA and the rest of Viz's library that's available digitally at this point. Actually, scratch that, you're gonna want to use an iPad. The app is set up more or less like the Viz Manga browser version, but thumbing through pages with the touch screen is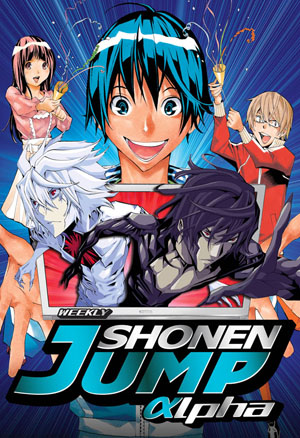 much more satisfying than hitting left and right, or clicking on the site's page arrows. It's as close as you're going to get to the true manga reading experience, and the comics themselves look fantastic. Throughout my time using the app on an iPad, I experienced a few issues, but nothing too frustrating. Occasionally the app would crash right after downloading a manga, but it would be fine once opened up again, and it never crashed while I was in the middle of reading something.
One thing SJA is missing is all the additional content the print edition provided. It might be pushing it to expect full editorial flare on a weekly basis, but what you get with SJA is mostly straight up comic chapters. To make up for this, though, the mag has features from time to time, including interviews with the likes of Naruto creator Masashi Kishimoto and Bleach creator Tite Kubo. I was also surprised to open the app one day and find to find a "special gift to SJ Alpha members" in the form of One Piece x Toriko: Taste of the Devil Fruit, the short one-shot collaboration between Eiichiro Oda and Mitsutoshi Shimabukuro.
While Viz may still have a few kinks to iron out, Viz Manga is a pretty sharp app, and the ease of purchasing volumes through it is wildly dangerous, to say the least. It's also impossible to deny the allure of something like One Piece being four volumes ahead of the print edition, and at half the price. Part of me wants Viz to hurry and get the rest of its library up and running online, but every other part is terrified at what might happen to my funds as a result. Don't get it twisted, digital will never have the same warmth of physical media, but this is a pretty darn good alternative.