[Review] Gatchaman Collectors Edition
Advanced weaponry and deadly ninja techniques
There are few classic anime that I feel are more than deserving of a Blu-ray release. The 1972 TV series, Science Ninja Team Gatchaman, is absolutely on that short list. There's so much going for it and, thanks to a gorgeous remaster, it still holds up well. And while we now live in an age where the entire Gatchaman franchise is available Stateside on DVD, I still find myself recommending the first series no matter what. Which is why it is all the easier for me to suggest that you get your hands on Sentai Filmworks' new Collector's Edition Blu-ray release of Gatchaman if you haven't seen or purchased the series up until now.
For a bit of quick history: Science Ninja Team Gatchaman was the first superhero show produced by Tatsunoko Productions, the same studio behind Mach Go Go Go/Speed Racer. The show was designed to be more realistic than anything the company had produced to that point, to help better show off what Tatsunoko was capable of with animation. And what better way to do that than to make a show that involves science fiction and ninjas?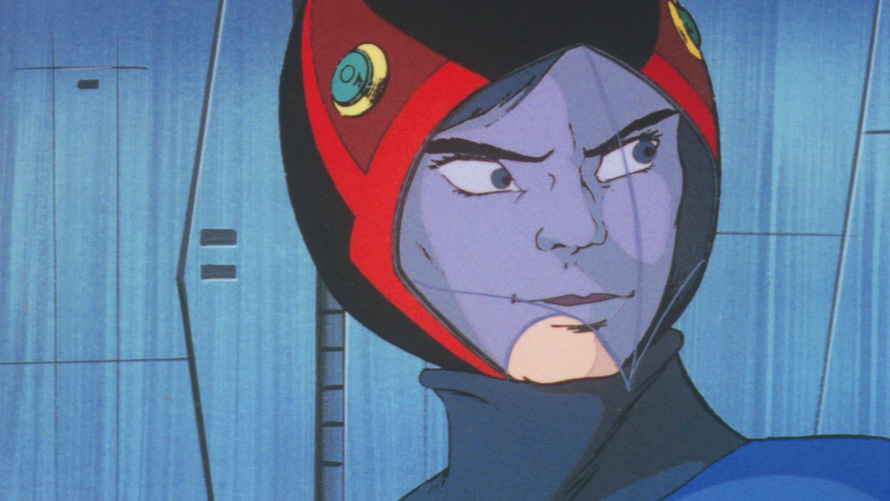 Set in the not too distant future, the evil Galactor organization has launched an international campaign of terror. Looking to take advantage of energy resources and the latest technology, the group aims to take over the world. However, thanks to the foresight of Dr. Nambu, a counterattack against Galactor is already in play: a specialized team of five youths trained to fight with advanced weaponry and deadly ninja techniques. The codename: The Science Ninja Team!
For Tatsunoko, Gatchaman remains one of its most well-loved and respected series, spawning two sequels, an OVA, and a compilation film. Even now, it is still one of the most stylish anime of its time, arguably the best Tatsunoko has ever achieved. It boasts early character design work by an up-and-coming Yoshitaka Amano (Final Fantasy, Vampire Hunter D), a vivid approach to its framing and composition inspired by American comic books, and one of the most iconic soundtracks ever by way of the late, great Bob Sakuma. And yet for all the fantastic elements, it managed the degree of realism that it sought after, with imaginative yet grounded mechanical designs for all the mecha, and compelling dramatic story arcs throughout.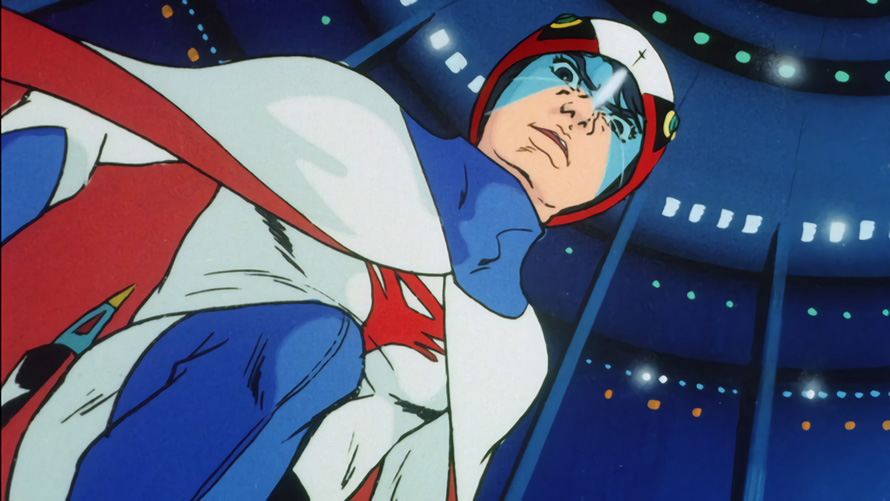 Now, this new Collector's Edition marks the fourth time Gatchaman has been released to home video. Which brings us to where those of you who already own the Gatchaman set are wondering why Sentai is bothering to re-re-re-re-release the show. It is the same set for the most part, with all the same features and offerings. But this Collector's Edition version comes jam-packed with two major additions: the first being the 1979 Gatchaman compilation film, originally available as a solo release.
Released to help build a fanbase for the then upcoming sequels, the film redubs choice episodes and boils the series' storyline down to its major arcs. While it does feel slightly choppy with the re-cuts, the film is perhaps better known for its absolutely beautiful Symphonic Suite that serves as the new musical score. The other add-on to the Collector's Edition is a welcome treat to fans: an art book featuring illustrations by the one and only Alex Ross!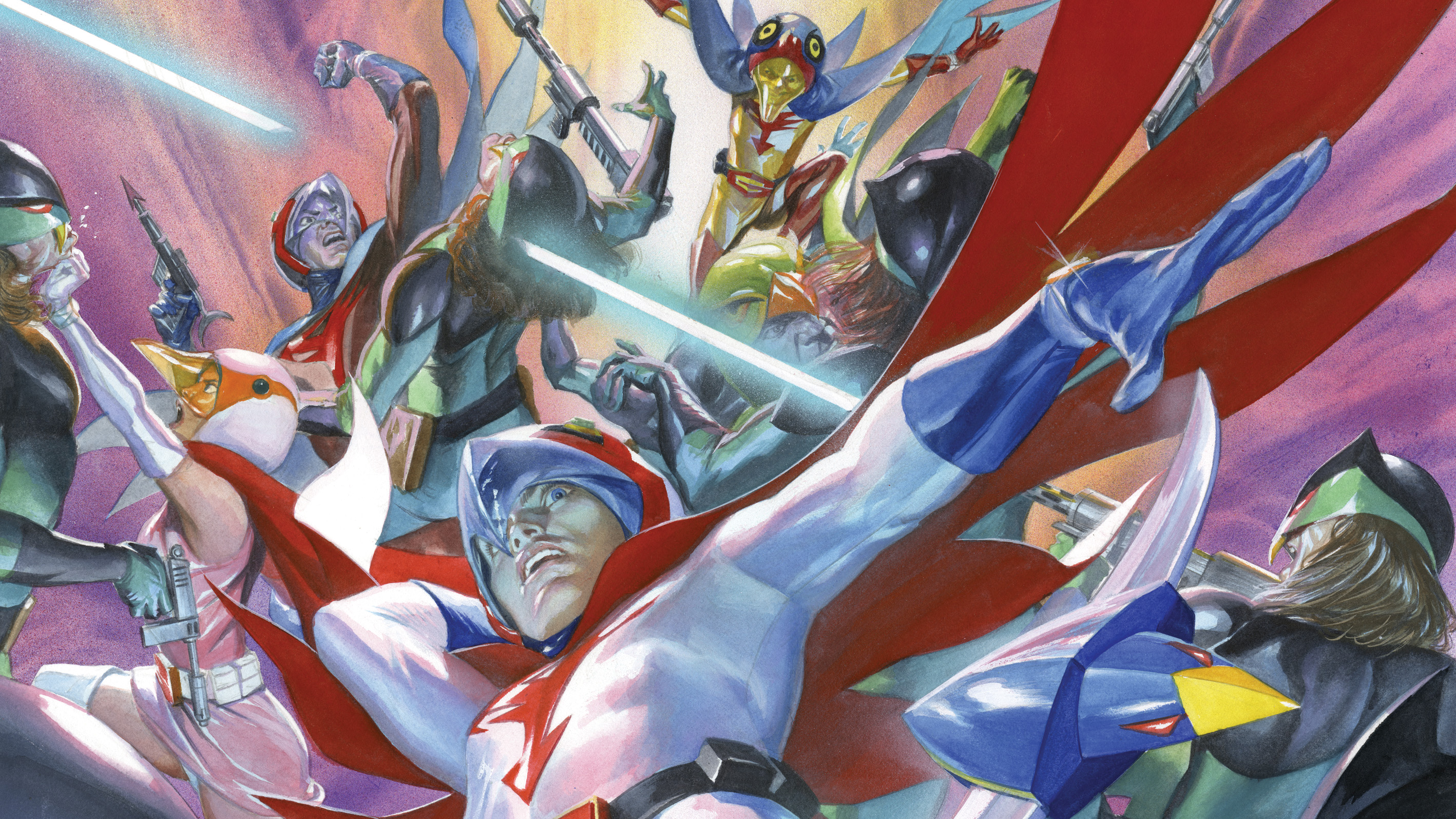 If you don't know Alex Ross by name, you still may have seen his work in some form another. Specializing in realistic painted illustrations, he's done artwork for nearly every major American comic book company. Highlights include work on the influential graphic novel Kingdom Come for DC, the artwork seen during the opening title sequence for Spider-Man 2, and special pieces included with the first wave of Japanese Ultraman DVD sets.
Spinning out of his work on the Top Cow/Image Comics Battle of the Planets series, Ross's artwork served as the disc and box covers for ADV's Gatchaman release. Sentai Filmworks used the artwork for the re-release and has carried it over to the Collector's Edition. In an interview included in the set, Ross mentions how with his artwork, he tried to capture everything he loved about Gatchaman as a kid, exploding with the kind of energy the series had in spades. He more than achieved that in my opinion, and having a collection of his vibrant and breathtaking artwork feels long overdue, making the Gatchaman Collector's Edition a more than welcome upgrade. Recommended.
Studio/company: Sentai Filmworks
Available: Now
Rating: TV-PG
This story appears in the June 2019 issue of Otaku USA Magazine. Click here to get a print copy.