"Furry Murder Mystery Romance" BEASTARS Hits Netflix March 13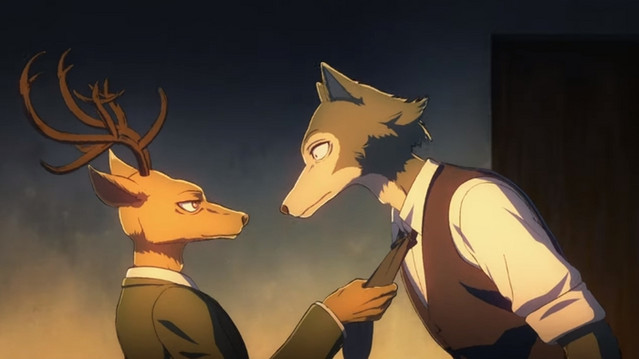 BE STILL our collective, anthropomorphic animal-loving hearts. BEASTARS, the CG anime adaptation of the manga by Paru Itagaki, is finally headed to Netflix.
Yes, this is one of those deals where the show already aired on TV and streamed on Netflix in Japan week to week many moons ago. No, we don't like it either.
Still, the good news is that BEASTARS is coming, and that it's very good. The series is directed by Shinichi Matsumi and animated at Orange, the folks behind Land of the Lustrous. It wrapped up last December, and a second season has been announced.
Here's how Netflix (briefly) describes the show, which it calls a "furry murder mystery romance":
Join anxious wolf boy Legosi on his journey to solve a friend's murder and, even harder, understand his feelings toward dwarf rabbit Haru.
And here's how VIZ Media describes the manga:
At a high school where the students are literally divided into predators and prey, it's personal relationships that maintain the fragile peace. Who among them is a Beastar—an academic and social role model destined to become a leader in a society naturally rife with mistrust?
Last night at Cherryton Academy, an herbivore student was killed and eaten. Among the members of the drama club, the herbivores' suspicions naturally turn to their carnivore classmates… The prime suspect? Legosi, a large wolf. But he wouldn't hurt a fly—or would he? And will dwarf rabbit Haru bring out the beast in him? Or are his feelings for her…something else?
The furry murder mystery romance Beastars finally drops March 13th! Join anxious wolf boy Legosi on his journey to solve a friend's murder and, even harder, understand his feelings toward dwarf rabbit Haru. #Beastars pic.twitter.com/EtFhUMmcB0

— NX (@NXOnNetflix) January 13, 2020
Source: ANN