FUNimation Gets Hungry, Licenses Toriko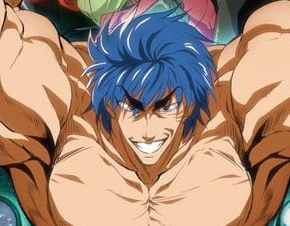 As usual, some licensing went down at this past weekend's New York Comic Con, and FUNimation came out with a couple of enticing new additions to its anime lineup. Chief among them is Toriko, the anime adaptation of Mitsutoshi Shimabukuro's gourmet hunting Shonen Jump manga. FUNimation announced the broadcast, home entertainment, video-on-demand, and theatrical rights to the series, with plans to release the first dual-language DVD set on January 18, 2013.
New simulcast episodes of Toriko will be available on www.funimation.com and other online partners starting on Wednesdays, and subsequent DVD volumes will be released throughout 2013. Here's FUNi's synopsis of the show:
Welcome to the Gourmet Age, a time when the world is full of deliciously deadly ingredients that the wealthiest appetites in existence can't wait to devour. But only a mighty masticating mercenary like Toriko can track down the rarest animals on the planet and put them on a plate! This gluttonous gourmet hunter is one of the four Legendary Kings, superhuman warriors born to battle the likes of Troll Kongs, Gararagators, and Devil Pythons! Accompanied by his loyal Battle Wolf and the promising young chef Komatsu, Toriko will circle the globe in search of the mouth-wateringly lethal ingredients that will one day make up his Full Course Menu of Life! The more ferocious the beast – the bigger the feast, but never forget the code of a true gourmet hunter: You gotta eat what you defeat!
Fans of director Mamoru Hosoda (Summer Wars, The Girl Who Leapt Through Time) should get a kick out of the NYCC news, too, as FUNimation has also acquired the broadcast, home entertainment, and theatrical rights to his latest film, Wolf Children Ame and Yuki (Ōkami Kodomo no Ame to Yuki).
You can read our review of the film here
From the visionary, award-winning creator of Summer Wars and The Girl Who Leapt Through Time, Mamoru Hosoda, comes a beautiful tale of love and triumph. 19 year old Hana finds herself falling in love with a wolf-man and over the years becomes the mother of two half wolf/ half human children. Ame, born on a rainy day and Yuki, born in the snowy winter must move with their mother to a rural town to hide the secret of their mysterious lineage.
A theatrical and home video release is scheduled for 2013.