Fullmetal Alchemist Anime Director Isn't a Fan of Live-Action Casting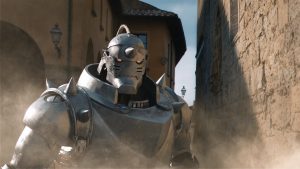 Last week's Nikufes (Meat Festival) Tokyo 2017 was host to some anime-related programming, including a panel featuring a roundtable discussion with producers Hiroshi Kanemaru, Tomoki Misawa, and 2003 Fullmetal Alchemist anime director Seiji Mizushima. When the topic came around to the trend of live-action films based on manga and anime, Mizushima had a few criticisms to air.
Mizushima had some choice words for the upcoming Fullmetal Alchemist film, particularly in terms of casting. "It was a bad idea to only use Japanese actors," he said, adding "If you asked me whether I think the cast could pull it off, I'd say that no, they can't … It's hard for actors to capture the look and feel of the original manga."
The producers joined in on the discussion, sharing Mizushima's sentiments and citing Takashi Miike's maligned Terraformars adaptation as another recent bad adaptation.
As for the Gintama live-action movie, Mizushima's thoughts were short and sweet: "Gintama just looked stupid."
Source: Anime News Network