Flowers of Evil Anime Wrap-Up
The 13-episode run of the divisive Flowers of Evil anime has come to an end, wrapping what we first favorably spoke of a couple months back. Guess what? It's still divisive! That's ok, because truly interesting entertainment often finds its viewers split down the middle, and the end result of Flowers of Evil is one of the most memorable anime of recent years. 
One of the first things we noticed about Flowers of Evil was its relaxed pacing, which makes even Shūzō Oshimi's original manga seem a bit rapid-fire. Despite it suiting the tone of the series, it had some concerned about just how far into the story director Hiroshi Nagahama and the staff at ZEXCS would be able to steer it. Things pick up when necessary, though, and while some might find the end spot frustrating, moving events at an even brisker pace would have been to the detriment of the show as a whole.
The rotoscoping has been a nagging issue for some since the very first episode, but the series just wouldn't work any other way. At this point I can't even imagine how it would look as a more traditional anime, and thankfully no one needs to. Flowers of Evil maintains a kinetic energy only made possible by its unique animation style. Scenes like the widely praised finale of episode 7 represent some of the best animation has to offer; a gleefully destructive, yet oddly intimate moment between Takao Kasuga and the manipulative Sawa Nakamura that trumps even the manga's depiction.
Speaking of Nakamura, while she may be repulsive at times, the anime ends up making her a more appealing character. She's certainly more interesting than Kasuga's chief love interest, Nanako Saeki. It's hard to completely write off Saeki, though. She's as confused by her own emotions as anyone else in the series. It's unclear whether she wants to be with Kasuga because he's the first to make some bold (and weird) moves on her, or if she genuinely cares for him and wants to figure him out. More likely it's a combination of the two, but Nakamura provides just enough of a sinister wedge—playing against their relationship and keeping Kasuga emotionally torn—to intensify Saeki's feelings.
Everyone's going to remember the handful of visually captivating scenes that truly take advantage of the fluid rotoscoping, but Flowers of Evil isn't afraid of quiet moments. There's no rush to depict something like the frustration and bewilderment Kasuga's parents feel over their son's actions, as they sit in silence in the middle of episode 11, reacting with slight movements and saying everything by saying nothing. Finally his mother's head falls to her hands and we gradually move along.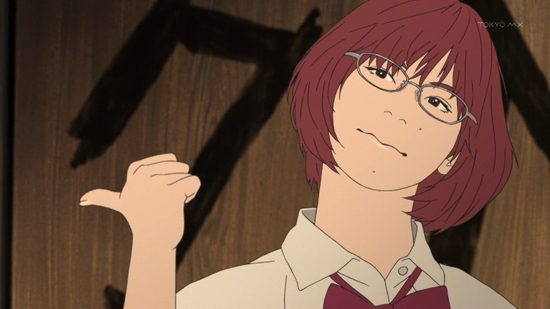 Flowers of Evil will be even more rewarding for those who haven't checked out Oshimi's manga, though I recommend both. It certainly didn't ruin the weekly experience for me as the series streamed, and they're different enough in execution to warrant double dipping with this fantastically executed story of bubbling hormones, young love, and attempts to escape from a dismally average world full of shit-bugs.
Crunchyroll streamed Flowers of Evil as it aired in Japan, and Sentai Filmworks will be releasing the series on home video.