Fashion Band SuperGroupies Releases Cowboy Bebop Spike Spiegel Suit
SuperGroupies, the Japanese fashion brand known for its apparel based on anime, is at it again.
This time, they've announced a suit based on the iconic hero of Cowboy Bebop, Spike Spiegel.
This isn't exactly cosplay: the suit is based less on Spike's costume from the series and more on his, you know, feel.
The suit, which comes with an exclusive illustration by Bebop character designer Toshihiro Kawamoto, is lined with a design instantly recognizable to fans of the series: the iconic background displayed during the opening animation. The same design is displayed on the suit's pocket square.
The Spike Spiegel suit, which comes in men's M and L, is up from preorder until December 17, and will ship in March 2018. It'll cost you ¥40,000 (about $360).
Cowboy Bebop will turn 20 years old in 2018. For those who have never seen the iconic series, a summary:
The Bebop crew is just trying to make a buck. This motley lot of intergalactic loners teams up to track down fugitives and turn them in for cold hard cash. Spike is a hero whose cool facade hides a dark and deadly past. Pilot Jet is a bruiser of a brute who can't wait to collect the next bounty. Faye Valentine is a femme fatale prone to breaking hearts and separating fools from their money. Along for the ride are the brilliant-but-weird hacker Ed and a super-genius Welsh Corgi named Ein.
On their own, any one of them would be likely to get lost in the sprawl of space, but together, they're the most entertaining gang of bounty hunters in the year 2071.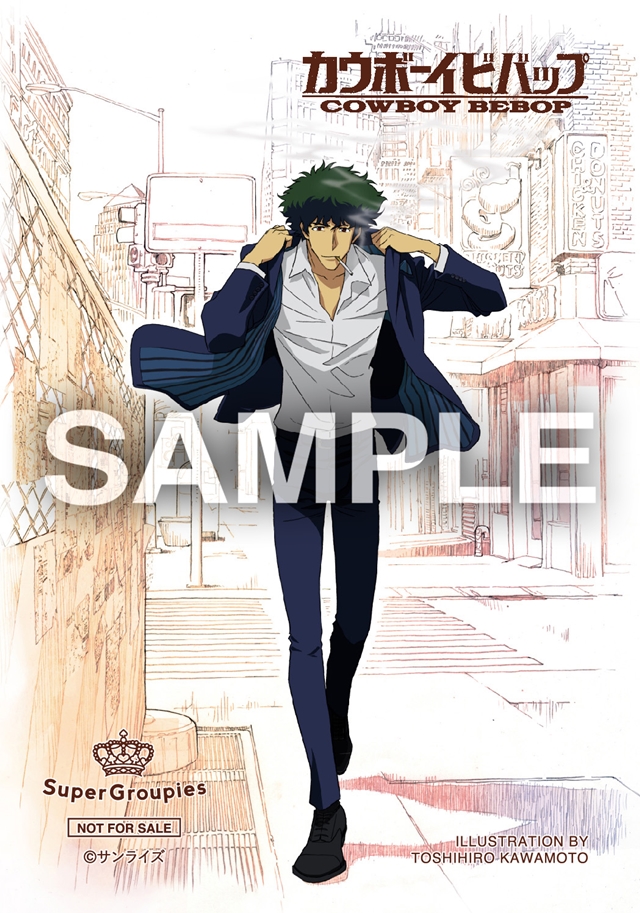 Source: Animate Times