Fantasia Festival to Screen The Girl from the Other Side, INU-OH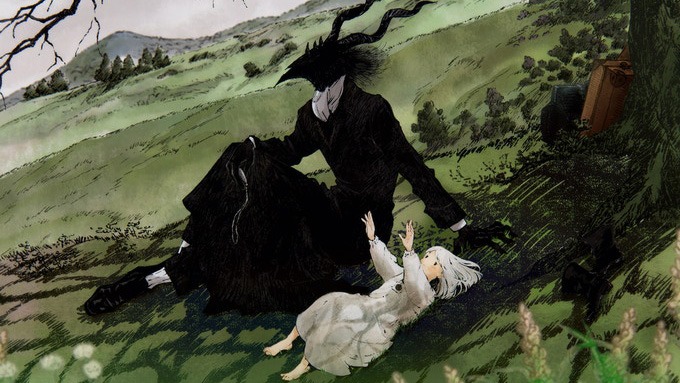 The Fantasia International Film Festival in Montreal, which will occur July 14- August 3, is going to show some anime. First up is The Girl from the Other Side: Siúil, a Rún, which will be making its Canadian debut. INU-OH from Masaaki Yuasa will make its Quebec debut.
There will additionally be some live-action Japanese films for otaku. There is the movie version of the novel Anime Supremacy!, a movie version of the Mogura no Uta manga (called The Mole Song: Final), and a movie version of the Kappei manga.
The festival gave this description of The Girl from the Other Side: Siúil, a Rún:
"A dark and monstrous creature becomes the guardian of an innocent human child in the affecting gothic anime fairytale THE GIRL FROM THE OTHER SIDE, co-directed by rising talents Yutaro Kubo and Satomi Maiya. The pair world-premiered their short film adaptation of Nagabe's cult manga at Fantasia 2019, and with this feature they bring the elegant, enigmatic tale of Shiva and Teacher to the screen once again."
The festival gave this description of INU-OH:
"Bristling with energy and inspiration, INU-OH, the new feature film from anime radical Masaaki Yuasa (MIND GAME, DEVILMAN CRYBABY) is an absolute tour-de-force. Ancient Japanese history is reimagined as a riotous rock opera, rendered all the more feverish and fantastical by Yuasa's storytelling panache and astonishing inventiveness, not to mention Taiyo Matsumoto's amazing character designs."
The Fantasia International Film Festival said this was its mission:
"Since its beginnings, the Fantasia International Film Festival has explored the diverse realms of genre cinema, creating bridges between the cutting edge and the mainstream, and providing a festive but professional environment where emerging artists are given exposure alongside their more established counterparts, both locally and internationally. We showcase the best in Canadian and world cinema, discovering and nurturing exciting new talents and offering a platform through which artists and audiences can connect."
Source: ANN
____
Danica Davidson is the author of the bestselling Manga Art for Beginners with artist Melanie Westin. She is also the author of its upcoming sequel, Manga Art for Everyone, and the first-of-its-kind manga chalk book Chalk Art Manga, both illustrated by professional Japanese mangaka Rena Saiya. Check out her other comics and books at www.danicadavidson.com.