Dragon Quest Gets CG Anime Film Dragon Quest Your Story
Dragon Quest, the long-running series of RPGs, will be adapted into a CG anime film set for release in Japan this summer.
The film, which is titled Dragon Quest Your Story, will be based on the fifth game in the franchise, Dragon Quest V.
The team behind the film is the same as that of the CG-animated Doraemon film released in 2014. That includes Takashi Yamazaki, who's working as chief director and screenwriter, and Makoto Hanafusa, who is credited as director.
Takashi Yamazaki is also the director of the Space Battleship Yamato and Parasyte live-action films.
The music will be composed by Koichi Sugiyama, the main composer of the Dragon Quest franchise (who also composed the music for the original Dragon Quest V, natch).
Dragon Quest V was first released on Super Famicom and is now available on several platforms, including smartphones and Nintendo DS. Here's a description of the latter:
Follow a journey that crosses three generations of a family's legacy in a classic RPG brimming with new ideas, numerous lands to explore, multiple branches to enhance replayability, and dozens of your favorite DRAGON QUEST monsters. With over 1.1 million units shipped as of September 30 in Japan, this pivotal title that introduced a monster recruitment system to the series and presented players with an ultimate choice that changes the course of the game comes exclusively to Nintendo DS(tm). Embark on a journey that spans three generations in this classic RPG experience crafted by creator Yuji Horii, manga artitst Akira Toriyama, and composer Koichi Sugiyama.
Dragon Quest Your Story will be released in Japan August 2.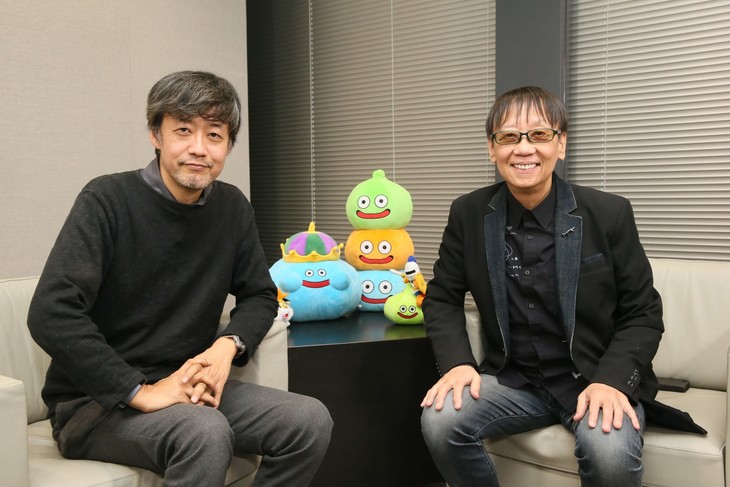 Director Takashi Yamazaki with Dragon Quest creator Yuji Horii.
Source: Comic Natalie