Familia Feud!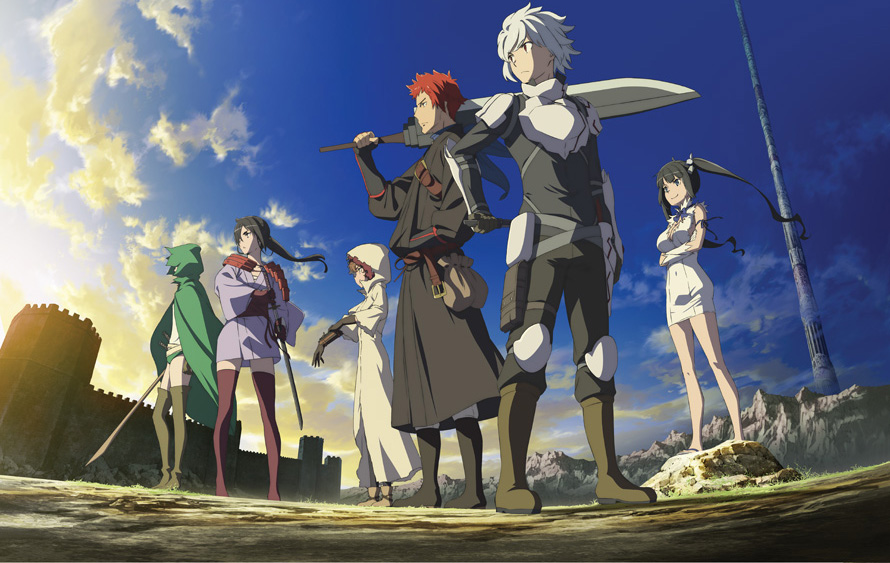 The first season of the anime adaptation of writer Fujino Omori and illustrator Suzuhito Yasuda's Is It Wrong to Try to Pick Up Girls in a Dungeon? light novel series hit the airwaves back in April 2015, which is an eternity by Internet standards. While we did get a solid side story series in the form of 2017's Sword Oratoria anime, it wasn't until the summer 2019 lineup that we finally got the second season so many fans had been eagerly anticipating.
So, was it worth the wait? Did the exploits of young adventurer Bell Cranel and his obsessive goddess Hestia pick up seamlessly where they left off? Is It Wrong to Try to Pick Up Girls in a Dungeon? II takes the audience in a more intimate direction with plenty of in-fighting between rival familias, giving us a chance to really see what kind of hero Bell is destined to become.
War Games
When we last left Bell and co. they were rounding out a particularly harrowing adventure on the 18th floor of the dungeon. After taking on a powerful monster, they enjoyed a brief respite in the Is It Wrong to Expect a Hot Spring in a Dungeon? OVA before finally leaving us in the capable hands of Ais Wallenstein and the Loki Familia in Sword Oratoria. Now that the main crew is back in action, though, there's a much more pressing matter at hand than whatever lurks in the higher floors of the titular dungeon.
Thanks to matters outside of his control, the trouble starts brewing when Bell and his pals get into a rough and tumble fight with members of the Apollo Familia. Vocalizing this as a serious offense—while not so secretly delighting in the entire situation—their god Apollo takes the squabble as an opportunity to declare war on the Hestia Familia. His prize, should his side emerge victorious? Why, he'll earn the rights to Bell himself!
Hestia—being a totally reasonable and not at all impulsive goddess—isn't going to take this sitting down. She accepts the challenge under the condition that Bell and the rest of the family are given enough time to adequately prepare for the war games to come. After all, Apollo boasts around a hundred soldiers under his guidance, while Hestia's forces number in the single digits. Thus, the game is afoot, and the form it takes is decided by a draw. Bell's challenge then becomes to siege the Apollo Familia's castle and take down its captain, Hyakinthos Clio.
Watching this all unfold is a ton of fun, and takes up a little under half of the second season's run. The story that follows ratchets up the intensity even further, though, and introduces one of the series' most devious familias to date.
High Stakes Harems
At a glance, one might not think much of the Ishtar Familia other than their alluring appearance. In the reality of DanMachi, however, the goddess Ishtar and her people are among the most powerful familias in the land, running the red light district with a silk-clad fist. With its mostly female members averaging out at around Level 3 and a goddess gifted with the power to charm both Gods and mortals alike with her beauty, this isn't a familia Bell wants to end up rubbing the wrong way.
Naturally, that's exactly what he does, as he finds himself targeted by some Ishtar women in the city of lust. The saga that unfolds as a result rocks the brothels and ultimately sets up a rescue mission that has Bell, Hestia, and the rest of the familia fighting for the freedom of a fox-human hybrid named Haruhime. Between the epic clashes we have new digs for Bestia Goddess and her fam, crippling debt due to a surprisingly expensive blade—seriously, the Hestia Knife costs HOW MUCH?—and much more.
With its second season, Is It Wrong to Try to Pick Up Girls in a Dungeon? proves once again that it can issue a solid mix of comedy, action, fantasy, and heart. The adaptation cuts through what could, on the surface, just be another fan-service-loaded fantasy show without any memorable characters.
The fact that DanMachi sticks its landing so well is all thanks to the dynamite production team at J.C. Staff, led by director Hideki Tachibana (Armed Girl's Machiavellism), who took over for Season 1's Yoshiki Yamakawa. There's plenty of returning talent, as well, including series composition writer Hideki Shirane (Kill Me Baby, Date A Live), character designer Shigeki Kimoto (Sky Girls), and the music of Keiji Inai (Btooom!, The Royal Tutor). They imbue the series with a sense of urgency that doesn't erode its more lighthearted and fun elements in the process.
If you've been sleeping on Is It Wrong to Try to Pick Up Girls in a Dungeon? for any reason, don't make the same mistake I did. I totally underestimated the franchise for the first few years it was out, thanks in no small part to the Hestia ribbon memes that made it look like little more than ecchi overflow. There's much more to it than that, though, and the second season is a must-watch for those who have been adventuring alongside Bell since Episode 1.
Is It Wrong to Try to Pick Up Girls in a Dungeon? II is currently available to stream via HIDIVE and Crunchyroll.