CRUNCHYROLL SPRING 2011 PREVIEW
Spring is in the air! Fat bees are buzzing! Butterflies swoop! And, best of all, a host of blisteringly hot new anime is arriving at Crunchyroll.com.
Over the next few days and weeks, Crunchyroll will be announcing a slew of titles for their Spring 2011 lineup of streaming anime. And Otaku USA will follow suit by regularly updating our website with show information to help you pick out your new favorites.
MARCH 28, 2011
GINTAMA (Season Five)
Alien Vs. Samurai!
A head-spinning mix of samurai spirits, alien invaders, and off-kilter comedy, GINTAMA has inspired feverish otaku activity both in Japan and around the world. Ever since its debut as a manga (created by Hideaki Sorachi) in the pages of Weekly Shonen Jump in 2003, the sheer amount of cosplay, doujinshi, and fan events that GINTAMA has inspired has helped to make it one of the biggest franchises of recent years—which is why you can't walk more than a few feet in Akihabara without tripping over GINTAMA figures, video games, snack foods, etc!
The popular GINTAMA anime, produced by Sunrise Animation, has been running since 2006 and has four seasons consisting of over 200 episodes already under its belt. Now, Crunchyroll aims to bring over Season Five in a simulcast that will launch new episodes a mere 30 min. after they air in Japan. Premium members can look forward to new episodes of GINTAMA every Monday at 2:30 a.m.
But what about the story? Crunchyroll Brand Manager Michelle Hwang takes a crack at explaining the rollicking sword-swinging shonen-infused saga thusly, "GINTAMA is a story of a handyman named Gintoki, a samurai with no respect for rules set by alien invaders, who's ready to take any job to survive. He and his gang, however, are also among the very few who have not forgotten the morale of a swordsman. Wherever they go, all they do is to create troubles." (PM)
GINTAMA Season Five at Crunchyroll
Hanasaku Iroha
A life in slices
In a rousing celebration of production company P.A. Works' 10th anniversary comes Hanasaku Iroha, a quaint look at Taisho-era (1920s) Japan through the eyes of 16-year-old protagonist, Ohana Matsumae (voiced by Kanae Ito). As jarring as our own vicarious trip to the past may be, it's nothing compared to the drastic switch in Ohana's life, as she moves from Tokyo to the country to work at the hot spring Kissuiso with her grandmother.
Having never met, or even spoken to, her grandmother before, Ohana nevertheless decides to embrace her new life and make the most of the situation. The setup to this series may sound like quite the departure from the previous work of director Masahiro Ando, who in the past has headed up projects ranging from CANAAN to Sword of the Stranger. P.A. Works have also built quite the legacy for themselves over the past decade, including animation production and in-between work on the likes of Angel Beats!, Tekkonkinkreet, Phantom ~Requiem for the Phantom and more.
In addition to the anime—which debuts on April 3—Hanasaku Iroha has been adapted into a manga, with Eito Chida illustrating. The adaptation started its run in the December 2010 issue of Square Enix's Gangan Joker magazine.
Be sure to check out Hanasaku Iroha when the simulcast hits Crunchyroll in April. (JL)
MARCH 29, 2011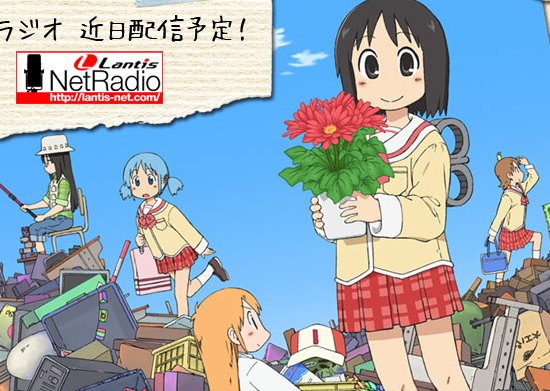 Nichijou (My Ordinary Life)
Absurdist High
Based on a manga by Keiichi Arawi, Nichijou (My Ordinary Life) is one of the additions to this spring's anime lineup that might just be primed to bring a healthy, welcome dose of absurd comedy to the table. Ok, the jury's out on whether or not the show's more out-there school-based scenarios will rival the strangeness of, say, Eiji Nonaka's Cromartie High School, but this definitely isn't your ordinary academic grind.
Robot girls, talking cats and principals wrestling deer, all oddities brought to life via the animation production of Kyoto Animation. Overseeing it all is Tatsuya Ishihara, who already has quite the roster of popular works under his director's utility belt. The Melancholy of Haruhi Suzumiya, Clannad and Kanon are just a sampling of the projects Ishihara has headed up, so the odds of Nichijou at least being a competent production are favorable.
Fans of the manga—which began its life in Kadokawa Shoten's Shonen Ace in 2006 before also being introduced as a part of Kadokawa's lineup in Comptiq—were already treated to a glimpse of the animation back in early March. The sixth collected tankobon came packaged with a 23-minute OVA entitled "Nichijou Episode 0." Be on the lookout for the 13-episode TV series when the simulcast debuts on Crunchyroll this April. (JL)
My Ordinary Life on Crunchyroll
Oretachi ni Tsubasa wa Nai
City life, city love

The full title, Oretachi ni Tsubasa wa Nai – Without Wings – Under the Innocent Sky, may be an absolute beast, but, as Crunchyroll's synopsis for the series insists, this is no fairy tale. Rather, Oretachi ni Tsubasa wa Nai (which shall henceforth be referred to simply as Oretsuba) paints a much more down to earth picture than its verbose title implies.
Oretsuba has its origins firmly planted in the world of visual novels. The fifth in a series developed by Navel—who also produced a few Shuffle! and Soul Link games, among others—this is the first to receive more than just a manga adaptation. The animated take on the visual novel comes from Nomad and director Shinji Ushiro (Blessing of the Campanella, Strait Jacket), with Takamitsu Kouno (Comic Party: Revolution) tackling series composition duties.
Taking place in the expansive city of Yanagihara, Oretsuba deals with the complexities of relationships formed within the bustling town, from an antisocial handyman, Hayato, to a pair of co-workers who start out at odds with one another. The series is set for 12 episodes, the first of which will stream exclusively on Crunchyroll 30 minutes after its original broadcast in Japan. (JL)
Astarotte's Toy
Do you believe in magic (harems)?

Naoya Tohara is a young boy in an interesting situation. Thrust into a magical world, he's enlisted as a potential addition to Princess Astarotte's harem. Here's where things get a little sticky—hey, keep your mind out of the gutter. Not only is Astarotte Ygvar a succubus, she hates men. Sure, the thought of being tossed like a randy rag doll into the harem of a woman who only surrounds herself with other women may be enticing, but the rest of this premise is pure nightmare territory.
Or is it? As the President of Crunchyroll's Japan office, Vince Shortino, calmly puts it, "Let's watch the lives of these individuals unfold." Something tells us it isn't going to be that simple for poor Naoya.
The original mind behind Astarotte's Toy (Astarotte no Omocha!) is mangaka Yui Haga, who started the ongoing series Lotte no Omocha! in 2007, serialized in the pages of Dengeki Comics' Dengeki Maoh. Haga also did the original character design for the TV series and OVA, Baka and Test. Director Fumitoshi Oizaki (Romeo x Juliet) is in charge of bringing Haga's work to life through the animation production of Diomedea.
Astarotte's Toy starts on April 10 for premium members, and will launch every Sunday at 9:00 a.m. PST. (JL)
Astarotte's Toy on Crunchyroll
—–