Classic Anime Returns with Ninja Scroll on Blu-ray
Featured Spotlight


One of the most celebrated anime films of all time is coming back with a Blu-ray release that includes both the English dub and original Japanese language options with subs, as well as a Japanese commentary track. Yep, we're talkin' about Madhouse's incredibly deadly Ninja Scroll, which is coming to Blu-ray from Sentai Filmworks on May 19.
Ninja Scroll first made its debut in Japanese theaters back in 1993, eventually making its way west and forever altering the minds of anime fans (and creating a ton of new ones) in 1995. The plot follows Jubei Kibagami, a wandering sword-for-hire who ends up on the wrong side of the vicious Eight Devils of Kimon after rescuing a poison-laced female ninja named Kagero. Cue a bunch of crazy action sequences, gorgeous animation, and an antagonist that just won't die and it's clear why this one's so highly regarded.
One of the many highlights of Ninja Scroll is seeing just what kind of devilish mutant will step forth next from the shadowy ranks of the Eight Devils. From the tough-as-granite Tessai to hornet-nested-hunchback Mujuro Utsutsu, the sheer variety of villains at play is enough to earn it classic status on its own.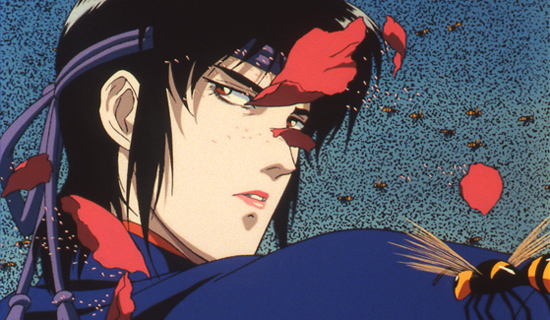 If the dominant blues of the feature weren't enough of a clue, the overall visual style and intense level of violence should help cement the fact that this is a Yoshiaki Kawajiri (Wicked City, Cyber City Oedo 808, Vampire Hunter D: Bloodlust) movie through and through. Together with the rest of his crew at Madhouse, Kawajiri makes blood-soaked anime history, and now you can enjoy it in HD with Sentai's upcoming Blu-ray.
**This article was sponsored by Sentai Filmworks**