Cells at Work! Anime Gets New Episode, Smartphone Game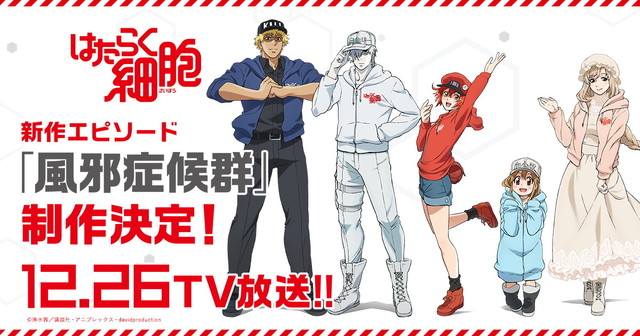 The cells are still working.
Cells at Work!, the popular 2018 anime series that personified the cells working hard in the human body, is back for more. It was announced over the weekend that the series would be getting a new episode, plus a smartphone video game.
The new episode will air December 26, and is centered around a regular ol' cell who, one day, is invited to get into some mischief by a mysterious cell in a blue cap. The episode is expected to be streamed in and outside Japan.
In addition, a smartphone game, Itsudemo Hataraku Saibo (Always Working Cells), was announced. The game will have an original story, plus battle and cultivation modes.
Here's how Crunchyroll describes Cells at Work!, which ran from July to September of this year:
This is a story about you. A tale about the inside of your body… According to a new study, the human body consists of approximately 37 trillion cells. These cells are hard at work every day within a world that is your body. From the oxygen carrying Red Blood Cells to the bacteria fighting White Blood Cells, Get to know the unsung heroes and the drama that unfolds inside of you! less
Source: Comic Natalie