Cells at Work! Movie Gets Trailer, Visual, More
The cells are back at work. Or will be soon, anyway. A film version of Cells at Work! is set to hit theaters in Japan September 5.
Now we've got a fresh look at the film via a new trailer and key visual, plus some news about the film's cast.
The movie, which is entitled Tokubetsu Jōei-ban "Hataraku Saibō!!" Saikyō no Teki, Futatabi. Karada no Naka wa "Chō" Ōsawagi! (say that three times fast) will star the cast of the original series, plus Yuri Yoshida, Rie Takahashi, Natsumi Fujiwara, and Yurika Kubo as a team of lactic acid bacteria.
https://twitter.com/hataraku_saibou/status/1279407363196403712
Those of you who can't make it Japan to see this theatrical version, rest easy: it appears to be a special presentation of footage that'll eventually be used in Cells at Work!!, the second season of the series, which debuts in January 2021. That second season is not to be confused with the spinoff Cells at Work! Black, also set to premiere in January.
Like the second season, this theatrical film is directed by Hirofumi Ogura (Black Butler II) at David Production.
Here's how Aniplex of America describes the first season of Cells at Work!:
This is a story about you. A tale about the inside of your body…
Enter the fascinating world inside your body where roughly 37.2 trillion cells work hard for you 24 hours a day and 365 days a year! The cell-sational action comedy Cells at Work! that has garnered praises from a wide array of audiences, from casual viewers to professionals in the medical field is the latest hit edutainment now on Blu-ray. The show is available with English audio, while also showcasing the English version of the opening theme song in each episode. Carry, fix, fight! Don't miss out on your chance to own the only series starring your cells at work!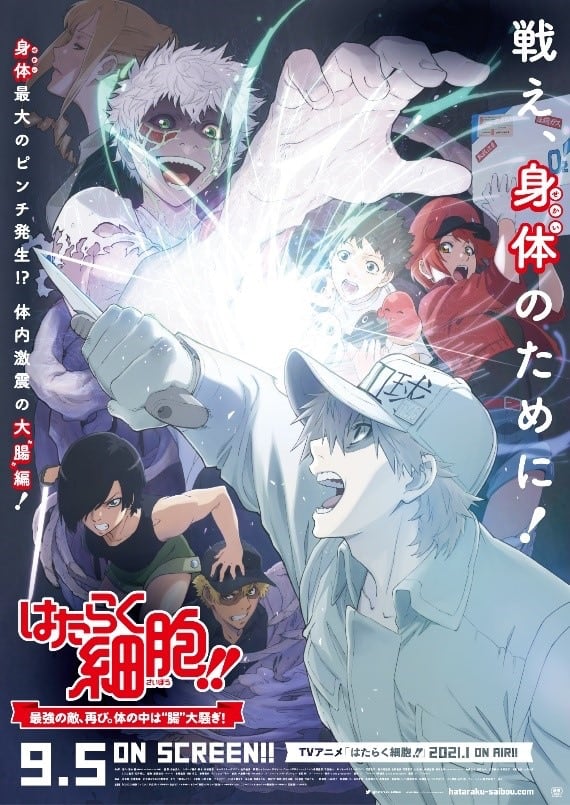 Source: ANN