Bomb Rush Cyberfunk Gives Us Serious Jet Set Radio Vibes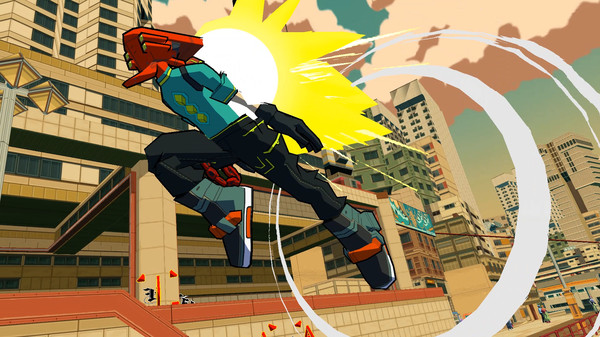 We here at OUSA headquarters are huge fans of Jet Set Radio (also known as Jet Grind Radio), the cel-shaded Dreamcast classic in which you roller skate around Tokyo-to, tagging its walls with graffiti.
Jet Set Radio got one sequel on the original Xbox back in 2002, but since then, it's been all quiet from Sega despite the game's huge cult status.
Enter Team Reptile, an indie game developer, who just revealed Bomb Rush Cyberfunk. Based on the trailer, it basically looks as close as you can get to a JSR sequel without invoking the wrath of Sega's legal team. (Actually, it wouldn't be that surprising if they got a call…)
It's even got music from Hideki Naganuma, who penned the too-cool-for-school OSTs for JSR and JSR Future.
Clearly the folks at Team Reptile are kind of obsessed with the Jet Set Radio aesthetic—they also used it in their 2D action game Lethal League Blaze.
No release date for Bomb Rush Cyberfunk yet, and it's only been announced for PC so far. Hoping to see one skate onto multiple platforms ASAP!
Here's the description from the game's official Steam page:
Team Reptile brings you Bomb Rush Cyberfunk, 1 second per second of highly advanced funkstyle. In a world from the mind of Dion Koster, where self-styled crews are equipped with personal boostpacks, new heights of graffiti are reached. Start your own cypher and dance, paint, trick, face off with the cops and stake your claim to the extrusions and cavities of a sprawling metropolis in an alternate future set to the musical brainwaves of Hideki Naganuma.
Source: IGN