Blue Flag Manga Connects Some Amazingly Messy Crushes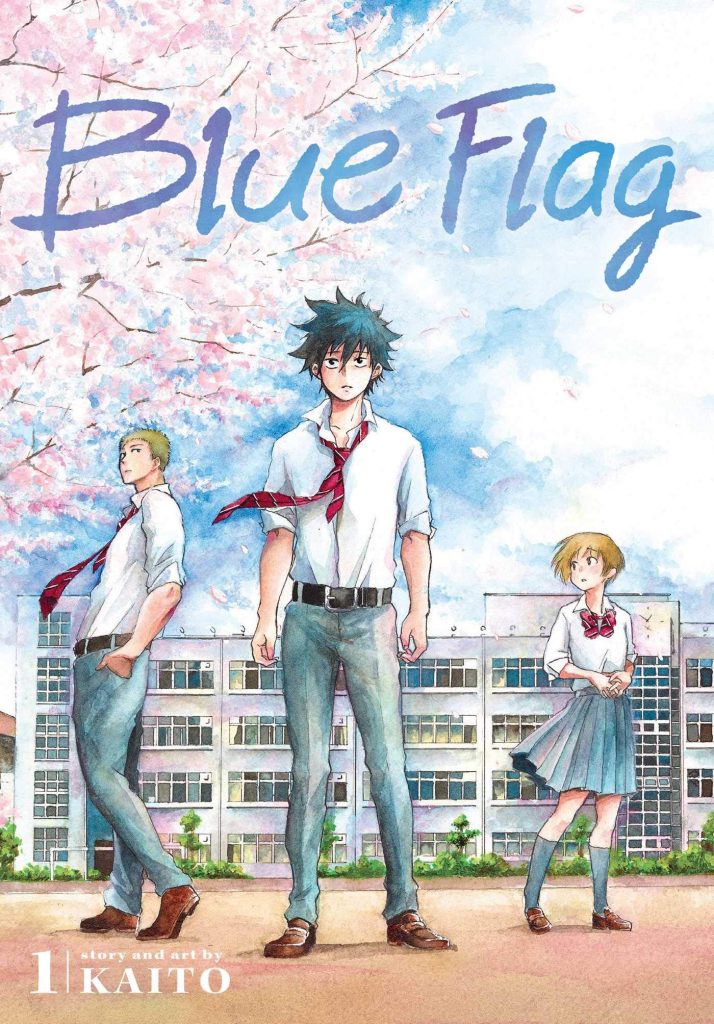 Love in high school can be confusing. Taichi Ichinose has been friends with Toma since they were kids, and Toma is the coolest boy around. He's smart, friendly, good-looking and athletic. No wonder Taichi likes him so much.
But if there's someone Taichi wants nothing to do with, it's Futaba Kuze. She's a klutzy, ditsy, timid girl who reminds him of a hamster. When Futaba and Taichi run into each other out of school, Futaba asks questions about Toma. Taichi puts two and two together and realizes the girl who annoys him the most has a crush on the guy he likes the most.
He ends up giving her advice on how to catch Toma's interest. Toma has mentioned some girl he likes, and whoever she is, she seems to be the polar opposite of Futaba. Futaba tries to change her looks and personality. Then Taichi helps Futaba "accidentally" run into Toma so they can watch a movie together, though Futaba characteristically manages to make it awkward when it doesn't have to be. So these things aren't helping. They're just making things more complicated, especially when Toma gets it into his head that Futaba has a crush not on him, but on Taichi. Meanwhile, we're trying to figure out who Toma has a crush on. And who does Taichi have a crush on? Each crush seems to be heartfelt but unrequited, and a pathway to mess up friendships.
The first volume of Blue Flag comes out at 225 pages, a little longer than the average manga, and is published by VIZ's esteemed Signature line. Since we're still figuring out crushes, things are up in the air, but everything is set up here to move quickly in future volumes. The ending is a good cliffhanger, and there are plenty of questions on how these characters are all connected. The series has been popular in Japan, and it was created by KAITO, who is the mangaka behind Cross Manage and Buddy Strike!, which you can also read through VIZ Media. While we still need to see where the series goes, KAITO has a lot available to work with when it comes to love and relationships in high school.
Publisher: VIZ Media
Story & Art: KAITO
_____
Danica Davidson, along with Japanese mangaka Rena Saiya, is the author of Manga Art for Intermediates. In addition to showing how to draw manga character types in detail, the book describes how professional Japanese manga creators work, including common techniques and what drawing utensils they use.