BL Manga Mask Danshi: This Shouldn't Lead to Love Getting OAD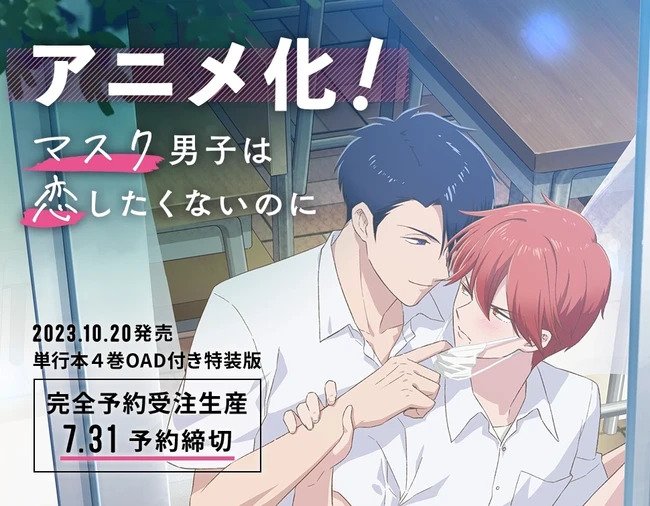 The BL manga Mask Danshi: This Shouldn't Lead to Love (or Mask Danshi wa Koishitakunai no ni in Japanese) is being turned into an anime! To be more specific, it will be an OAD, and in Japan it's set to be bundled with the manga's fourth volume this October. Ahead of this a trailer for it has dropped.
The main cast has been announced: Takuya Eguchi plays Tsuzuru Saikawa and Yūsuke Kobayashi plays Keigo Sayama.
The original manga is written and illustrated by Mitsuru Sangō. The OAD is being made at Studio Fusion, with Naoko Takeichi of Cooking With Valkyries helming the project as the director and doing the storyboarding. The music is being composed by Sōnosuke Takao, who has written songs for Fairy Ranmaru. The screenplay was written by Fumiyo Sakai, who is known for working on Asteroid in Love. The task of editing was given to Ayako Tan of Higurashi: When They Cry – GOU. The Blue Lynx label of Fuji TV, which is specifically for boys love, is behind the production. Credit for character design goes to Homura Kaneda. The animation is being produced by both Mio Nekoyama and Amefumi Hirotsuki.
You can read the manga in English thanks to Animate International, which gave this description for the plot:
Sayama is a pessimistic guy who always wears a face mask to school. When the most popular boy in class, Saikawa, rips off the mask out of curiosity, Sayama flips out. Despite his harsh words, he's somehow captured Saikawa's interest, who offers to tutor him with a bizarre condition: to let him do as he pleases with what's under Sayama's mask. Sayama hates it when people touch his bare face, lips, and mouth, but he can't resist Saikawa's attention…
The manga was launched in 2020 and has been published by b-Boy P! magazine from libre.
Source: ANN
____
Danica Davidson is the author of the bestselling Manga Art for Beginners with artist Melanie Westin, plus its sequel, Manga Art for Everyone, and the first-of-its-kind manga chalk book Chalk Art Manga, both illustrated by professional Japanese mangaka Rena Saiya. Check out her other comics and books at www.danicadavidson.com.