Attack on Titan Gears Up for Next Assault
The 25-episode Attack on Titan anime may be in the can and on its way to America, but the Survey Corps' adventures are far from over.
The manga and anime (streaming on both Crunchyroll and FUNimation) tell the story of humanity's battle against human-eating giants—Titans—who end a century-long peace by breaking through walls meant to keep survivors from extinction. And believe it or not, the show is actually far more popular outside of Japan. With the anime's run over and done with, what's next for the show's Titan-ic international fandom to devour? (Sorry, not sorry.)

The expanding universe
In the April issue of Otaku USA Magazine Joseph Luster explores some of the other AoT media headed our way. That includes writer Ryo Suzukaze and illustrator Thores Shibamoto's light novel prequel series Attack on Titan: Before the Fall, set 70 years before the Titans' attack and due out in North America from Vertical later this year.
There's also Attack on Titan: Last Wings of Mankind, the Nintendo 3DS title that released in Japan in December. The game is developed by Spike Chunsoft, perhaps better known stateside for games like Pokémon Mystery Dungeon: Gates to Infinity and the 3DS StreetPass game Warrior's Way. As protagonists Eren, Mikasa or Armin, players battle Titans, develop weapons and hire soldiers. No North American release for the game has been announced.
For a taste of what the manga brings to the table, check out Luster's companion piece exclusively here.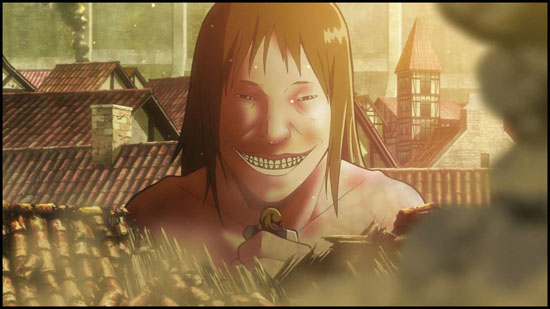 Super-sized release
FUNimation recently announced plans to bring the show to DVD and Blu-ray in North America. The show was simulcast on Crunchyroll and FUNimation's website. We reported a few times on FUNimation's dub cast for the series, which includes Bryce Papenbrook (Sword Art Online, Pokēmon Origins) as protagonist Eren Jaeger, Trina Nishimura as Mikasa and Josh Grelle as Armin. A collector's edition set will be available in June for $128.98, with a lenticular art card, 104 minutes of extras, and more. As for the manga, Kodansha is preparing to unleash an appropriately massive Colossal Edition collecting the first five volumes.