Attack on Titan Collaborating with Pizza Hut
We at the Otaku USA News Dome love nothing more than a good collaboration between a well-known Japanese pop-culture property and pizza. You may recall a time earlier this year when Hatsune Miku teamed up with Domino's Pizza in Japan, selling mountains of cardboard pizza boxes emblazoned with the virtual idol in about a week.
This time, it's Pizza Hut collaborating with this season's breakout anime hit, Shingeki no Kyojin, aka Attack on Titan. The offer, which runs from June 10 to July 21, will give customers who order pizza online the chance to be entered into a drawing for a variety of Cool Stuff signed by the show's production staff.
There are 32 items to be won, with 5 lucky customers getting signed copies of all 10 volumes of the manga published so far, and 6 even luckier customers getting signed copies of scripts used for the show.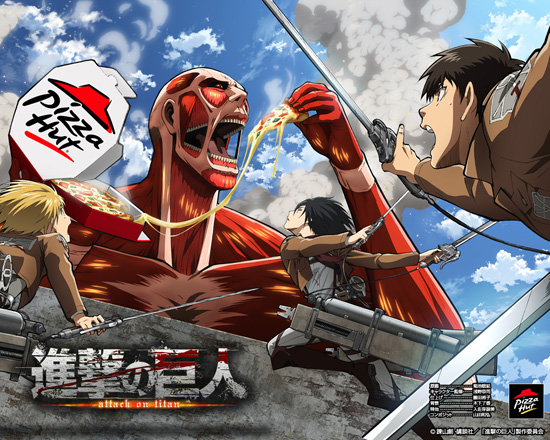 Of course, our American readers (presumably most of you) will be most interested in these astonishing Attack on Titan wallpapers, which depict one of the titular giants chowing down on what appears to be a Fresh Mozzerella Margherita pizza. My word!
This isn't the first time Pizza Hut has done this kind of thing. They've previously cross-promoted with Maria-sama ga Miteru, Evangelion, Macross Frontier and – perhaps most notoriously – on Code Geass, wherein characters straight-up ate Pizza Hut in the show itself. Mmmm… thematic consistency.
Source: Pizza Hut
This story originally ran in the 6/11/13 issue of the Otaku USA e-News
e-mail newsletter. If you're not on the mailing list, then you're reading it late!
Click here to join.
---
More stories on zany Attack on Titan merch and tie-ins:

– Attack on Titan and JoJo merch hits 7-Eleven
– Attack on Titan Collaborating with Pizza Hut
" target="_blank" rel="noopener noreferrer">Attack On Titan Jenga?
– Attack On Titan Teams Up With… Schick Razors?