Attack on Titan Anime Dub Clips Preview Levi and More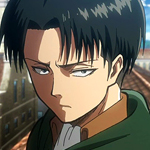 FUNimation posted a couple new samples of the Attack on Titan anime's English dub, and the most recent will really excite those who can't get enough of Levi. The dub is set to premiere at this week's Anime Boston convention, where the voice behind protagonist Eren will finally be revealed.
Before we get to the newest clip, here's the second, which includes characters like Conny (Clifford Chaplin), Sasha (Ashly Burch), and Jean (Mike McFarland) of the 104th Cadet Corps.
Next we have the "Take It Like a Man" clip, which features the voices of Levi (Matthew Mercer), Hange (Jessica Calvello), and Petra (Caitlin Glass).