Anime Film Let Me Eat Your Pancreas Hits Theaters This Fall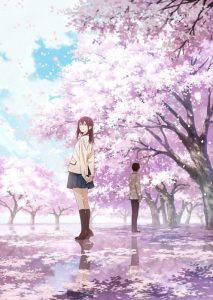 Let me tell you about Let Me Eat Your Pancreas.
The film, based on the hit novel Kimi no Suizo wo Tabetai (literally, I Want to Eat Your Pancreas), is due out in Japanese theaters this fall, it was reported today.
In addition, a new poster for the film, originally announced in August 2017, was revealed. It shows main characters Sakura and the unnamed protagonist, from whose point of view the story is told.
Despite the title, Let Me Eat Your Pancreas is not a zombie film—it's the tragic love story of two high schoolers, said unnamed protagonist and Sakura, who is dying from a terminal illness (I suspect you can guess in which organ). The hero, who learns about the secret illness, revolves to be with Sakura during the short time she has remaining.
In 2017, the novel was adapted into a live-action film starring Takumi Kitamura, Minami Hamabe and Shun Oguri.
The staff, cast and studio for the animated version of Pancreas have not yet been announced, but we'll let you know when they are.
Source: ANN