A Drunken Dream and Other Stories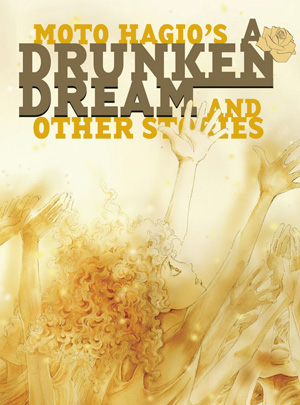 With all the devastatingly masculine media I tend to personally cover around here, one would almost think I have no room in my heart for softer fare. Far from it, I just don't have time to dig through anything that ranges from mediocre to outright bad. So it is with flowery, eyelash fluttering flair that I find myself turning to the classics when given the chance, and such an opportunity has presented itself once more with Fantagraphics' publication of Moto Hagio's A Drunken Dream and Other Stories.
This beautifully bound anthology contains ten stories from the mangaka behind award-winning comics like They Were Eleven (1975) and A Cruel God Reigns (1993-2001). As part of the group known as "The Magnificent Forty-Niners," Hagio was partially responsible for revolutionizing comics for girls in Japan. No longer were they weighted under the pen of a select few women and a larger group of men whose tales weren't made to resonate with the rising age group of the readership. Hagio and her contemporaries—as detailed in an essay and lengthy interview in the book, both by Matt Thorn—delivered comics born under new inspirations that defied the established conventions.
Some of the stories in A Drunken Dream are very cinematic. Some are heartbreaking tales of love and loss. Some reflect on the perception of beauty. There are a lot of different subject matters dealt with here thanks to the balance of the selections. From "Bianca" to "The Willow Tree" (which is extra effective if you listen to the Chad VanGaalen song of the same name while reading), this book spans over thirty years of Hagio's career. It traces a clear line of progression in all respects from 1977 to 2008; from the infancy of her artistry to its mastery.
Though you're sure to notice the differences in her methods over the years, Hagio thankfully never loses that '70s shojo style that remains so aesthetically pleasing. The dreamlike atmosphere of some of her layouts really hits a crescendo with the title story, "A Drunken Dream," preserved full-color in its original reds, blacks and browns. The circular tale of a woman seemingly fated to forever lie dead at the feet of a man she sees in her dreams weaves elements of science fiction into its time-spanning narrative.
1985's "Hanshin: Half-God" is one of a few tales in part about individual perception of beauty, sharing similar themes with 2008's "Iguana Girl." There's a little bit of everything here, and like all good anthologies it will no doubt be reread many times over the years. That's what I love best about collections like this, and I can't think of a better way to introduce the work of someone so influential in the industry. Even if you've never heard the name prior to cracking it open, you'll feel very familiar with Hagio's style after closing it for the first time.
The quality of A Drunken Dream and Other Stories can't really be overstated. It's top notch book design that complements its subject well, doing justice to a legend of shojo comics. Here's hoping we get more collections like this from Fantagraphics in the future.
Those wanting to sample of A Drunken Dream prior to purchase can check out a PDF excerpt on the book's main page here.
Publisher: Fantagraphics
Story & Art: Moto Hagio
© 2010 Fantagraphics Books