A Chat with Anime Legend Tony Oliver
Do you like Robotech, Mighty Morphin' Power Rangers, Lupin III and Naruto? Good, because Tony Oliver has worked on them all.
How did this anime legend first get started in the business? "It was quite by accident," Oliver said during an interview at Detroit's Youmacon. "I was a stage actor in Los Angeles, which means there wasn't a lot of work. I was desperate and I answered an ad where they were looking for someone who was older than eighteen but could sound younger … and they had to have ADR experience."
He didn't actually have any ADR experience, but that didn't stop him. "I had a friend who was an ADR supervisor, so I had her explain to me what the process was before I went," he said. "The silly people cast me in the lead in this movie, The Sea Prince and the Fire Child. I had grown up watching Gigantor and Kimba and all that—they called it Japanimation back then. The day we went to record, I came in a couple hours early so I could watch someone else work and figure out how to do this. It ended up on Showtime, and I got a call about a year later, saying, 'Are you the guy who did this?' They brought me in and auditioned me, and that was Robotech."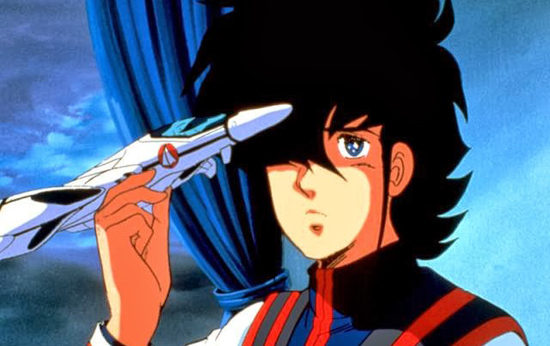 This doesn't mean that getting into the business was always easy. "When you're a young actor, you work and you get a great job, and then it's a long time before you see the next one," he said. "I was in that process, but I was also married and my second child was on the way. I actually quit the business. I moved out of town, went to work for a friend of mine at a radio station in sales, in production, not even as a voice guy. That kind of led me to learn the producing side of things. I ended up producing a weekend highlight show. Around that time, there was a big crash in the market and I'm working on commission, I'm not making any money. So I called some folks I knew and said, 'Listen, I literally need to go bankrupt. I need to pay a lawyer. And I know you guys are paying this much money for scripts, and that's about what I need for a lawyer. Can you just send me a script to adapt?' They offered me a full-time job as a story editor for three months. It was at Saban Entertainment and it turned into an eleven year job. As I moved up through the company, it blossomed into being invited into the development meeting of Power Rangers and being told, 'Okay, you're the guy who's going to do it.'"
In hindsight, we all know the phenomenal success of Powers Rangers, but that doesn't mean people at the time thought anything would come of it. "Power Rangers was interesting because we had to reinvent how to make a TV show," he said. "Nobody had done anything like this before, where we're mixing two different shows and dubbing part of it and shooting part of it. The reason they tapped me was because of my anime experience. Haim Saban, myself and Ellen Levy-Sarnoff worked on it together. I wrote a pilot—did about nine drafts to get it right. We went into production, and the day before it premiered, we were all terrified. Nobody thought it was going to succeed. Rumor was—and this is a rumor, so I don't know if it's true—that Rupert Murdoch threatened Margaret Loesch, who was President of Fox Kids at the time, that if the show didn't go, her job was gone. By the end of the week, we were the number one show."
While the origins of Power Rangers came from Japan and dubbing was involved, it was still very different from anime work. "Live action is far more complicated," Oliver said. "There are a lot more people involved—shooting crew is sixty people alone, minimum. The production work flow is very different, too. With original animation, you record it, you send it off, and maybe three months later you start to see picture. With anime, it's right there, it's instantaneous. With live action, it's kind of in the middle. We could see what we shot a day or two later, but then again we also had the ADR component which we used to fix the problems in the scripts. If it wasn't shooting right, we'd rewrite the lines that were going to be dubbed. If I'm directing an anime, I work and go home and have dinner with my wife. When you're doing live-action production, it consumes your life 24/7. I was working twenty hour days for six months. Very challenging but very fun. It was what I'd dreamed to do my whole life. And I got to act in it, because I was the voice of the Megazord, the voice of Saba."
As someone who's worked as a director, actor, writer and producer, Oliver says he likes directing and acting best, though it fluctuates on which one gets the top spot. "I get bored easily, so I move around. I don't do a lot of writing, though I just finished a feature film script that's in development with the studio in New York. Hopefully our celebrity will say yes and we'll get to shoot a movie and I'll get to direct an indie feature film. It's a psychological thriller, so it's about as far from the things I've done in my past career as you can get."
Though he says he doesn't do much writing because of his schedule, he has started writing the first chapter and a half of a Power Rangers book. What will happen with his proposed Power Rangers documentary, however, has yet to be seen.
"That got put on hold and it's probably never going to get finished, unfortunately," he said in regards to the documentary project he's told fans about. "There are rights issues, and the reason it stopped is that Disney wouldn't cooperate with us. Then Shout! Factory got the rights, and they've done one [Power Rangers documentary] already, and they did a great job. As long as they have the rights, I'll hold on to my footage and see."
In his thirty years of work experience, a few characters do stand out to him as his favorites to play. "Rick Hunter, of course, because it was my first series role and it's what I'm most known for after thirty years. Harry from Gungrave was my first villain, and it was a really difficult acting challenge because he's a guy who murders his brother and kills people and steals, but he has to be likable, too. And then Lupin, because, you know, he's Lupin!"
While Naruto's dad didn't make the list, Oliver's also eager to talk about Minato. "A lot of people don't know I play the voice of Naruto's father. It's a gig that kind of just fell into my lap. Mary Elizabeth [McGlynn] called me to do five lines in the video game and suddenly he's in the anime and it's turned into a multi-year job. It's going to be coming to an end soon; in fact, every time I go [in to record] I think, is this going to be my last session? She says, 'No, no, no, you're not dead yet. Well, you are dead, but it's all flashbacks so you never die.' It's interesting to have seen Naruto, which seemed like a fight-after-fight-after-fight kind of thing, turn into something with a lot of heart and characters that span multiple generations. All that's coming into play in the episodes we recorded in the past few weeks. Keep watching, because there's some good stuff coming up."
If you're serious about pursuing a career in voice acting, Oliver also has something else for you to look forward to: voice acting workshops where he'll personally teach you.
"I hooked up with Bang Zoom! Entertainment, who's my biggest client, and they wanted to set up a series of workshops," he explained. "So I wrote the curriculum and started teaching and found how I loved it. It's called Adventures in Voice Acting and I teach these workshops. They're mostly in L.A., but I go to New York every spring, occasionally I go to Chicago, Dallas and Seattle. I teach a weekend of workshops that are anime based. It's boot camp, because it's a professional workshop for people interested in doing this professionally. We work with real anime and real recording studios. When we play you back after we record the dub, you're hearing yourself with all the original voices. We should be back in San Francisco in the winter and I'm planning on going to Chicago sometime in the early summer, late spring, probably Dallas in late summer. If you're interested, you can go to www.adventuresinvoiceacting.com/workshops and get on the email list. There are guests here at Youmacon who were my students."
If you need something to entertain yourself with until more Naruto comes out or until you sign up for one of those workshops, here's something for your inner child: Bandai is releasing a legacy version of Tommy's Saba sword from Power Rangers. And if you click on it, whose voice will you hear? Of course it's going to be Tony Oliver's.
---
For Minecraft fans, the young-at-heart and people who know young Minecraft fans, Danica Davidson's middle grade Minecraft novel Escape from the Overworld is now available for pre-order. It will be released in January.