Viz Media Brings Castlevania Season 1 to Blu-ray and DVD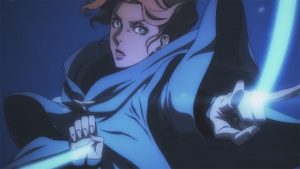 During this past weekend's New York Comic Con, Viz Media revealed details about the upcoming home video release of the first season of Castlevania. The four-episode season from Frederator Studios originally made its debut on Netflix, and now it's coming to Blu-ray and DVD on December 4.
The Blu-ray has an MSRP of $24.98 and the DVD is priced at $19.98. In addition to the episodes, the collection packs on-disc extras like storyboards and art galleries on both the Blu-ray and DVD. As for Blu-ray exclusives, fans can look forward to sketch-art-to-animation animatic sequences from some of the most intense moments of the season.
Synopsis:
Inspired by the classic video game series, CASTLEVANIA is a dark medieval fantasy following the last surviving member of the disgraced Belmont clan, trying to save Eastern Europe from extinction at the hand of Vlad Dracula Tepes himself. In Season 1, Trevor Belmont, embittered and excommunicated, finds himself drawn into a battle for the survival of Europe – a region that has brought doom upon itself by taking away the one thing its greatest monster loved.