Trigun: Badlands Rumble Blu-Ray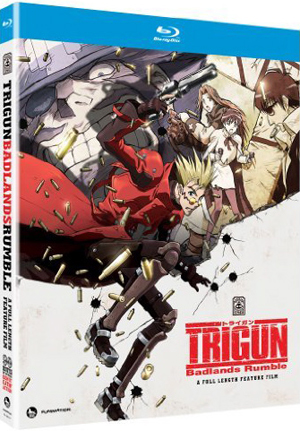 We originally reviewed the Madhouse-animated feature, Trigun: Badlands Rumble after its showing at Anime Expo last year. Now FUNimation has finally unleashed Vash the Stampede's latest adventure on Blu-ray and DVD, and it's a release that's certainly worthy of your hard-earned double dollars.
The opening sets up the story in rat-a-tat brick-chipping fashion, as a group of robbers, lead by the enormously imposing Gasback, break into a vault with reckless abandon. Seriously, they just hold their triggers tight and mow down every obstacle in their path. It's a great kickstarter for the adventure to come, and it ends in a shocker of a betrayal that puts Gasback on the barrel end of his cohorts' guns. Before they can blow him away, though, Vash is almost magically thrown into the situation. Ok, he's pretty much literally drawn in. His interference allows  Gasback to live to rob another day, thus rolling a dice with repercussions to be felt twenty years down the line.
And so we flash forward two decades, where Vash still manages to look like he hasn't aged a day, and Gasback is still at large, planning his biggest robbery yet. This time it's personal, though, as he aims to get revenge on his former pals, who are all living large in Macca City.
Meanwhile, a tough young gal named Amelia has her own bone to pick with Gasback, and Vash tags along for the hunt, much to her chagrin. Trigun mainstays Milly and Meryl also have a reason to leap into the picture, but their presence is mostly superfluous; an excuse to bring the series' full cast into the action, but who's complaining? With the bonus inclusion of Nicholas D. Wolfwood, Badlands Rumble becomes just about all one could ask of a Trigun motion picture.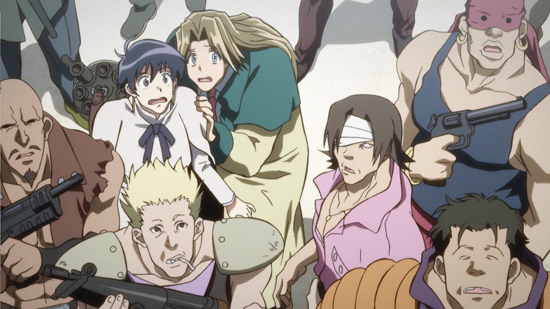 And that's where it succeeds. It's a Trigun motion picture. Much like 2001's Cowboy Bebop the Movie: Knockin' on Heaven's Door, Badlands Rumble is more like an extended TV episode with bonkers production values. There's no real character development, and though the stakes are high they're no more so than your average episodic plot would provide. That's not a knock on the movie, though, because this happens to be a very good episode of Trigun, with blistering action and exchanges that keep the personality of the series intact.
While Badlands Rumble could certainly be enjoyed by anyone not familiar with Trigun, there would still be large chunks missing from the experience for newcomers. Some familiarity is expected, and the dynamics of the characters' various relationships will go way over new viewers' heads. Even the character of Vash himself will elude those coming in with fresh eyes, so if at all possible, it's a good idea to have checked out at least a portion of the TV show beforehand.
Beyond all that, Badlands Rumble is just a lot of fun. My favorite parts of Madhouse's rich production—as directed by Satoshi Nishimura (Hajime no Ippo: Champion Road, a couple Trigun TV episodes)—actually reminded me of rowdy fighting game stages. Rogues and roustabouts hangin' out just for an opportunity to nab the rich bounty on Vash's head crack wise and chug beer in the background, hooting and hollering their way into the film's budget. The use of CG is sparing and, at its best, Badlands Rumble comes alive on screen. Most of all, though, it succeeded at making me want to watch Trigun all over again after so many years. Here's to more features like this one.
Aside from looking nice, FUNimation's Blu-ray release of Trigun: Badlands Rumble comes packed with more extras than your average anime. Most notable is a wealth of staff and cast interviews, but there are also movie premiere clips from both Cinema Sunshine Ikebukuro and Anime Expo 2009, as well as the requisite collection of promotional videos and commercials. It's a movie worth watching on a large HD screen, so this release is recommended.
Studio/Company: FUNimation
Available: Now
©Yasuhiro Nightow/Shonengahosha, TRIGUN PARTNERS