This Season's Anime Couples Need to Hurry and Get Together
We love a good slow-burn romance as much as the next person. Some of our favorite anime couples have gone years, even decades, without saying anything. (City Hunter fans understand.) And this season has even more adorable duos who are just made for each other… but one or both parties just can't get their head around it.
The summer anime season is coming to a close, and with it their chances to make their feelings known. Here's a trio of cute couples we have our fingers crossed for. What blossoming romances have you been invested in?
Amit and Jormungand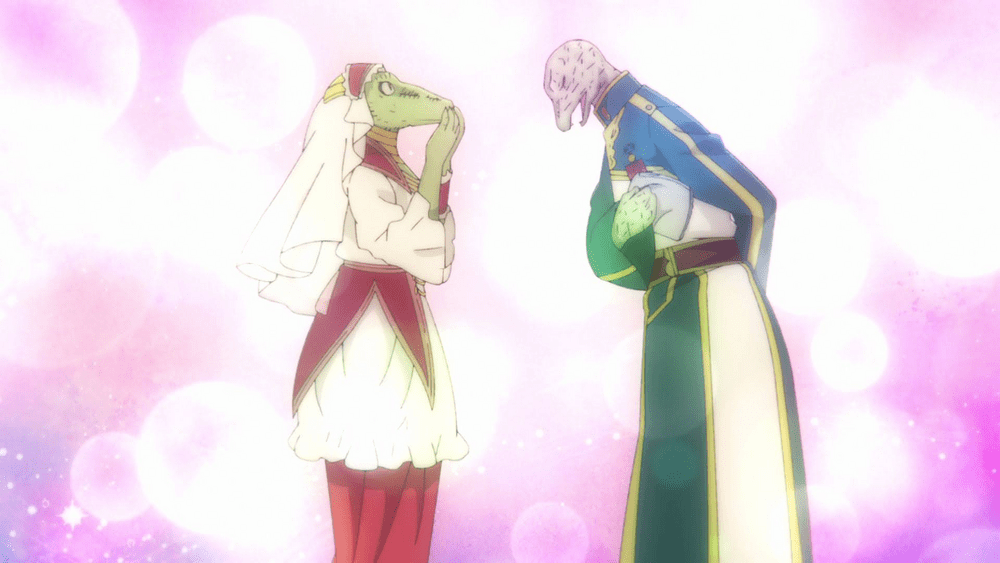 Anyone who's seen Sacrificial Princess and the King of Beasts knows that Sariphi and Leonhart adore each other. They've proven their love and loyalty over and over again. But while they're one of our favorite anime couples of the year, they're not who we're here to talk about today. Instead, we're looking at Princess Amit and Captain Jormungand: a slow-burn reptilian romance playing out under the main action of the series.
Amit was originally sent to woo the king away from Sariphi, but ended up befriending the human girl instead. She also let slip that her heart truly belongs to Leonhart's guard captain. The two seem to be made for each other, but Jormungand puts duty first. Hopefully he'll open his heart to his devoted admirer soon.
Komura and Mie
Some anime couples are visible from miles away—with or without corrective lenses. Kaede Komura is the "I" of The Girl I Like Forgot Her Glasses, and Ai Mie is the girl in question. Based on the manga of the same name, the series follow's Komura's daily interactions with his absentminded crush. He loves being there for her, to the point that he's actually a little happy when she forgets her glasses. But he can't conceive of Mie-san feeling the same way.
That's not for lack of trying on her part, though. She's all but bludgeoned him with the fact that his feelings are reciprocated quite enthusiastically. Will he be able to see himself clearly before the season's end?
Lawrence and Cecilia
The purest and sweetest of this season's anime couples is Lawrence and Cecilia… and not just because they're straight out of a church. The stars of Saint Cecilia and Pastor Lawrence devote their lives to helping the locals and each other. Cecilia is a Lady Saint: a uniquely gifted woman with protective powers. In private she's a bit silly and lazy, but she puts her all into protecting the locals… and especially Lawrence.
But Cecilia is madly in love with Lawrence, and he just doesn't seem to pick up on that. Even if literally everyone else they encounter does. Fortunately, Cecilia has a whole cast of characters attempting to move their budding romance along. Will Pastor Lawrence ever recognize the Saint's feelings? For the sake of Cecilia's feelings (and ours), we sure hope so.
Keep the love train going with these swoonworthy shoujo manga!